Jake's Food Truck having a good first season
Posted on November 16, 2021 by 40 Mile Commentator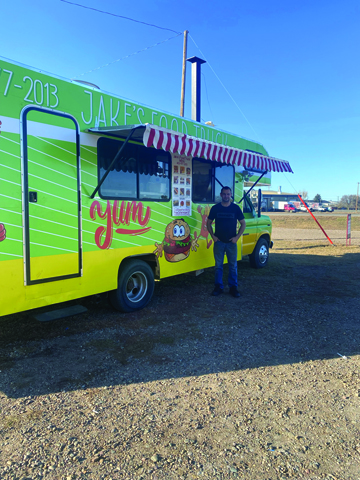 Jake's Food Truck has had a good start to being a small business in Bow Island.
By Justin Seward
Commentator/Courier
Jacob Krahn established Jake's Food Truck in Bow Island in April and has had a good first season of business.
Krahn  had the food truck concept in mind for a while and according to him, it has been "so far, so good."
"Just so that I can work with my family and I love cooking," said Krahn, on why he started the business.
Krahn's wife Susana, daughter Margaretha and sister-in-law Lena Loewen help with the business.
Krahn was a truck driver before and was never home and considers this move a life changer for himself.
"We've been doing really good," he said.
He set up shop next to Bow Island's Integra Tire from Monday to Saturday and serves the local community.
"The way I schedule myself is day by day," he said.
"I come and make everything in the morning and open at 10 a.m., and by then I've got everything prepared and ready and just wait for the people to show up."
Krahn rented Henry Peter's truck that was in town last year for couple of months to start before he bought an old RV to fix up.
The menu includes beef tacos, pulled pork tacos, dollar fries, hamburgers, pulled pork sandwiches, hot dogs and burritos.
"I really like the food and I'm always cooking it at home and I figured I'd try it and see if people would buy it," he said.
He thinks between the highway going through town, wind farm workers and local people coming to support him is what keeps him viable as the loan food truck in Bow Island.
"They're really amazing," he said.
"We got regular people every day that come here for lunch and supper."
The most gratifying part for him owning a food truck business is making sure people are happy and the support he is getting, working close to home and with his family.
His plan for the future is to attend more events.
Jake's Food Truck will be open until the end of the month before closing until next spring.