Schuler Community War Memorial unveiled
Posted on November 16, 2021 by 40 Mile Commentator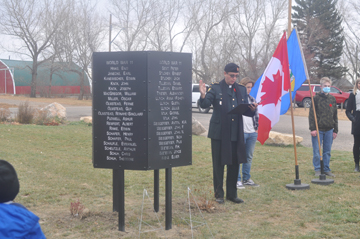 Rev. Capt. Shane Hein of the South Alberta Light Horse proceeds with the dedication for the Schuler Community War Memorial on Nov. 9.
By Justin Seward
Commentator/Courier
Community residents and Schuler School gathered Tuesday for the unveiling of the Schuler Community War Memorial during a dedication ceremony on the greenspace that once housed the hamlet's old community hall.
The Schuler Community Association was tossing about ideas as to what to do with the greenspace once the community hall was deconstructed a number of years ago – whether that was a park or a gathering space – and ultimately members realized their sister town of Hilda had a war memorial.
The memorial has names of veterans from the area who either fought in the First World War or Second World War.
"And we thought we need a memorial for the people in our community that have served and gave us this way of life and so that's kind of where the idea came from," said Marianne Wells, SCA president.
"We weren't sure what it was going to look like and it wasn't until we went to a company in Saskatchewan actually that make these metal signs and they did our Schuler signs – our new signs for the town. So, we asked them if they would give us some ideas and they proposed a number of options, and this is what we decided on – that we would have a permanent remembrance for the people from the First World War and Second World War."
The SCA liked the memorial design because it allows for people to walk around it.
"I would just like everyone to be able to come into this park and look at the names that came before them that have provided us with this wonderful opportunity to be Canadians," said Wells.
Rev. Capt. Shane Hein of the South Alberta Light Horse did the dedication for the ceremony and said, "It puts the cherry on top."
"I can help out the ones that are living and I could also honour those who are dead," he said.
"So, this kind of stuff – probably one of my favourite things to do as a Padre."
Hein said the war memorial helps centralize the town and unite people around something bigger than themselves.
"We thought it would be a really great opportunity for students because it's a little more real than sitting in the gym, and I think the fact that they all stood outside for almost half an hour and were paying attention to what was happening, made it more real for them," said Lisa Lindsay, Schuler School principal.
Lindsay's hope is this becomes a growing annual tradition with Schuler School.
"They got to see actual names from people in this community on the cenotaph. They got to see some of the veterans there, RCMP in full regalia and it seemed a little more impactful."
First World War names on the War Memorial include: Sydney Guzzwell, Roy Hinks, Carl Kuch, Walter Langdon, Alexander MacLeod, Thomas Munro, Hilding Nordin, Jack Piccard, David Rose, Alexander Rumberg, Oscar Rumberg, Charlie Smith, John Spitzer, George Taylor, Ignatz Weisgerber, Arthur Wilson, Thomas Bjornstad, Sydney Caller, Allan Campbell, Baldy Chisholm, Harold Drew, Harold Ellis and Mose Gordon.
Second World War: Mike Aberle, C. Jack Alexander, Howard Aman, Joseph Andrisek, Dewey Beck, Milton Beck, Alfred Becker, Edward Becker, Lawrence Brusky, Mae (McGill) Daze, Alexander Dickhaut, Daniel Dirk, William Ebel, Edward Ellik, Henry Ellik, Scotty Ford, Andrew Gehring, Jack Geisinger, Christian Getz, Chester Glasgo, Stephen Glasgo , Charles Gnam, Edward Goehring, Harold Goehring, Lara Guzwell, Henry Haag, John Haag, Jack Hensel, Theodore Herman, Enid Hinks, Earl Janecke, Edwin Kanewischer, John Knox, Joseph Knox, William MacGregor, Oscar Miller, Fernie Olmstead, Guy Olmstead, Ronaye (Sinclair) Olmstead, Ashur Pudwell, Albert Remfert, Edwin Rinke, Henry Schafer, Paul Schafer, Emmanuel Schaufle, Arthur Scheutzle, Chris Schuh, Theodore Schuh, Peter Sebit, Ernest Stuckey, Jack Stuckey, Daniel Tilleman, Edward Tilleman, Alexander Trieber, Anna (Fisher) Ulrich, Gustav Ulrich, Julius Ulrich, Gabriel Volk, John Volk, the Weisgerbers of Anton, John F., John N., Nick and Pius, F.H.Wiedeman, Joyce Wiedeman and Ekmer Wiens.