Tigers building chemistry away from rink
Posted on November 16, 2021 by 40 Mile Commentator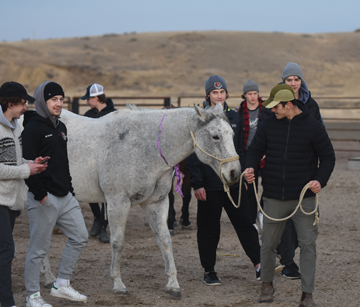 NEWS PHOTO JAMES TUBB Lukas Svejkovsky, Noah Danielson, Beckett Langkow, Ashton Ferster and Corson Hopwo of the Medicine Hat Tigers lead their horse, No Love Grey, through an obstacle course at the Irvine Rodeo Grounds Tuesday afternoon. The Tigers were taking part in a team building exercise put on by Avalon Equine and PRPS Equestrian Program.
By James Tubb
Southern Alberta Newspapers
The Medicine Hat Tigers the  afternoon of Nov. 9 off from working on their power play and instead focused on team chemistry.
The Tabbies took part in a team building exercise at the Irvine Rodeo grounds put on by the Prairie Rose Public School Equestrian Program and Avalon Equine Linda Kraft, program co-ordinator, says the exercise is a fun and unique team building experience with real-life takeaways.
"Hopefully they get some takeaway from the activities and draw parallels into their own life as well as their team," Kraft said.
Tigers head coach and general manager Willie Desjardins says it was good for his team to get out in the community and have those in the community want to do something with the Tigers. He says it was nice for the group to experience something together besides hockey.
"We have players from all over and some have never experienced this," Desjardins said. "It's just great to just get together and do things besides hockey and have fun as a group."
Kraft had the Tigers fill out a worksheet before they handled the horses, about their lives and their teammates. Kraft then split the team into groups and had them work with different horses on navigating an obstacle course. She says it is amazing how open people are in the worksheets and the connections they make in their own lives with the activities.
"Some of the parallels they draw to team members, other people in their lives, the group dynamics, it is unreal," Kraft said.
She has led other hockey teams in similar equine interaction team building programs, including the SAHA U18 female team earlier this fall.
Kraft says the Tigers were a great group to run through the program and hopes they had as much fun as she did. She says working with horses helps people understand how they work with others and will mirror the emotions of their handlers.
"Very humbling to have a 1,200-pound animal that could basically do what they wanted to but they are co-operating," Kraft said. "They are wanting to work with you as an individual, it's a direct reflection and feedback to when you're working with them."
A lot of the Tigers had never worked with a horse, let alone been near one, so it was a new experience for many. Desjardins says it was nice to see his guys in a different environment and to see who took charge at the rodeo grounds that wouldn't usually at the rink. He says he couldn't tell who did the best but was happy with the results.
"It was hard to say who was really good but the big thing is I think they all really enjoyed it and I think it will be interesting the comments tomorrow," Desjardins said.
Lukas Svejkovsky, an over-ager with the Tigers, didn't hold back with who he thought worked best with the horses and who didn't.
"I was handling that horse pretty well, I gotta be up there," Svejkovsky said. "Our horse did not like Hops (Corson Hopwo) too well. I was just focused on myself, me and the horse, so I didn't see many guys besides me. Noah (Danielson) did a good job actually, he was in our group, so proud of him."
It was the first time Svejkovsky had been close to a horse and says it was a little scary at first but had fun as he got comfortable. Svejkovsky says just being able to do an activity like that with the boys was great.
"Whatever it is we're doing, just getting the guys together and being able to chat like this, hang out and have fun away from the rink is huge," Svejkovsky said. "Something like this, it was a little chilly out, but besides that it was so much fun."