Cypress County to establish a community fund
Posted on November 23, 2021 by 40 Mile Commentator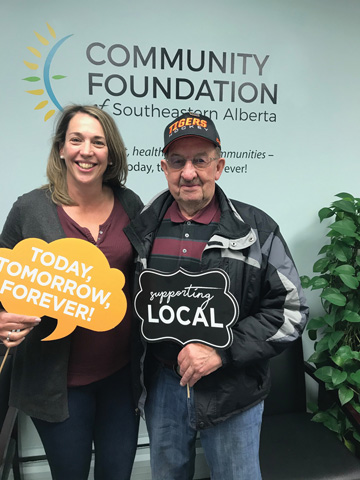 Commentator/courier file pHOTO Sue Edwards, then Community Foundation executive director , with retired Hilda farmer Marvin Fischer, who along with wife Jean donated to the CFSEA to start an Agency Endowment Fund for HALO in this 2020 file photo. Cypress County council approved to start their own community fund in the municipality at their Nov. 16 meeting.
By Justin Seward
Commentator/Courier
Cypress County council agreed to establish its own community fund through the Community Foundation of South East Alberta at their Nov. 16 meeting.
A community fund  includes supporting a geographic area, a committee of local volunteers in each area that will lead the direction of the fund, donations to the permanent or endowment funds are never spent and charitable receipts are issued, all donations are invested with a professional investment company, the investment income from the fund will be dispersed locally through a local granting process, only charities and a qualified done are eligible for grants, non for profit societies can partner with a qualified donee to apply for grants and the first $10,000 donated to each fund will be matched CFSEA.
"So, what these guys have offered is they want to out seed money in and they're offering us $10,000 on matching—so we would put up $10,000," said Dan Hamilton, county reeve.
Council decided they will match the $10,000 through their stabilization fund.
"This money is not to be spent. It's to put in to invest and have it grow. But it opens up the community foundation for Cypress County, so that you can get the other grants that are out there for federal and provincial that comes up every year."
CFSEA will assist in developing a board.
CFSEA currently has $24 million stored away in investments.
"They spend the interest off of it for grants for communities in southern Alberta," said Hamilton.
"The reason why they want Cypress County to start a Cypress County community foundation is so they can funnel grants to us that are out there. Just give you for instance, last year there was an RBC grant that went out to communities. Bow Island, Forty Mile and those (communities)  got it—it was $15,000 just with COVID, no questions asked grant— and Cypress County didn't get any of that because we don't have a Community Foundation set up."
Hamilton said what CFSEA does is they take that money every year—and it's money that people have donated through wills and that kind of stuff—and they keep it in the designed area of where the person has donated.
The next steps will be to establish a name, the fund and policies moving forward.
More information on how to donate will be available once the fund is established.
"This group is community driven and it would be absolutely awesome if there are interested community members to participate," said Tarolyn Aaserud, County chief administrative officer.
The county will be looking for six to eight people to sit on the board.
"We're really excited, and to be able to work with those community members and ensuring that the needs in their specific community are being met through granting initiatives," said Niki Gray, CFSEA acting executive director.
CFSEA did a feasibility study in the rural regions back in 2018 to identify the needs  that were in the rural areas in order to establish  community specific funds for individual communities across the region.
It was a year later that the Rural Community Fund of Forty Mile, the Brooks and District Community and the Prairie Crocus Community Fund.
"A couple of years ago, we did see there was a significant gap with Cypress County not being included in on this," said Gray.
"Although we were providing grants across the region and into the Cypress County, we weren't able to have any local expertise or community leaders from the county having a say on where those grants were going. We approached the county to see if they wanted any involvement in it."
More information can be found at http://www.cfsea.ca.