Redcliff Public Library to host book sale this week
Posted on November 23, 2021 by 40 Mile Commentator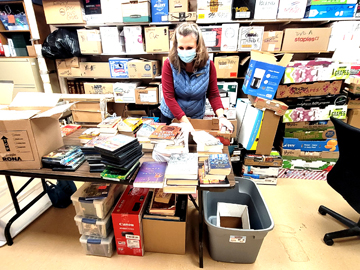 Commentator/courier PHOTO submitted by Redcliff Public Library Redcliff Public Library's head clerk Karen Jaeger sorts through books last week ahead of the sale.
Thousands of books can be viewed and purchased during the Redcliff Public Library's four-day book sale this week.
It was prior to COVID that the book sale was held once a year and in the last couple of years the event has moved to two a year.
"Obviously, it raises awareness that we're still here in Redcliff and the other major factor is that it helps to bring in a little bit of revenue for the library," said Tracy Laturnus, library manager.
"We're kind of limited as to what kind of fundraising we can actually hold. Our Friends of the Library do a lot of our fundraising on our behalf. But this is one event we can do and it seems to be doing quite well for itself over the last few years."
The book sale's inventory comes between being donated and the library weeding its shelves annually.
"We're very thankful and we receive a lot of donations throughout the year and just seems to be increasing," she said.
Laturnus said, "Wonderful," when it comes to the community support of the book sale.
The genre of books varies.
Laturnus said the library has been on steady increase when it comes to profits from the event.
"In 2020 I believe it was, we actually raised $4,000 from our two book sales," she said.
The library is just shy of that number this year.
The book sale is from Nov. 24-27. Times are 11 a.m. to 7 p.m. on Wednesday and Thursday and from 11 a.m. to 5 p.m. on Friday and Saturday.
People can call the library at (403) 548-3335 to book an appointment due to the limited amount people that are allowed in the room.
Books will be posted on the library's Facebook page for those who do not want to be in person and can send a message on the books they are interested in and arrange for pick up the following week.
Book prices are by donation.
All proceeds go into more books.