Defence officials deny BATUS departure
Posted on December 1, 2021 by 40 Mile Commentator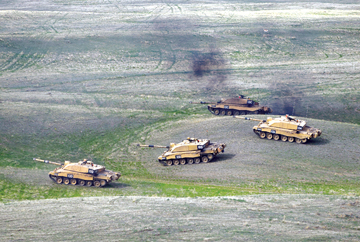 Southern Alberta Newspapers Photo British tanks maneuver along the prairies as part of a live-fire excercise in May 2018 by the British Army Training unit Suffield. Defence officials in the U.k. are denying a media report there claiming that BATUS will be leaving the base altogether in 2023.
By Collin Gallant
Southern Alberta Newspapers
British defence officials are denying reports in that country's media that its presence at CFB Suffield will end, but implied Wednesday that large-scale tank training could move to bases in the Middle East and Africa.
Local officials are holding comment until more details were released Thursday, but say the potential of losing armour training and thousands of troops each summer would be a blow, but could be offset by refocusing the base as a centre for high-tech warfare.
British Army Training Unit Suffield will mark its 50th anniversary next year at the sprawling major troop training and live-fire facility west of Medicine Hat.
It was last week however, the United Kingdom's Ministry of Defence will announce a reorganization of its global training facilities.
That comes after a large-scale military review last spring included money to modernize its heavy tank fleet but would reduce its size by one-third.
British newspaper, the Telegraph, reported last  Tuesday that unnamed sources say the remaining 150 upgraded "Challenger 3" tanks would be stationed for training at a new base in Oman after 2023.
That would project presence and capacity in that region, a key point in the "Integrated Review," which also calls on new investment in unmanned vehicles and drone aircraft.
U.K. Defence Minister Ben Wallace told Forces News that operational changes are coming, but BATUS will continue to be "a vital training base for the British Army."
"BATUS is not being closed," he told the Armed Services publication. "Of course, we'll change what we do there because some of those forces we might use elsewhere but, no, we're not closing BATUS."
In the same report he reiterated a plan to prescribe five "land hubs" combining base and training facilities in globally strategic locations.
"Oman is one – Kenya another and there'll be others," he said.
Local Member of Parliament Glen Motz says he will be in contact with the office of new Defence Minister Anita Anand to discuss the issue once the British plans for the facility are outlined this week.
"We know the base is critically important to the region in terms of jobs and economic spin-off … we want to maintain that," Motz said Wednesday from Ottawa, where parliament resumed this week.
"If it's changing, then I'd encourage exploring with all our Allies opening it up for new training and new technology – that's exactly where we want to go."
Officials with the Canadian Department of National Defence pointed to Wallace's statement as a sign of continued use at CFB Suffield, where the two countries have a joint operating agreement.
"We are in regular, close contact with the U.K. on any number of defence issues, and are confident we will be informed early on of any decisions that may affect the British Army's footprint here in Canada," read a statement.
"We also know that the U.K.'s longstanding presence in southern Alberta is of great importance to the local community… for the time being, nothing has changed."
Annual battle group training saw between 5,000 and 10,000 troops arrive in the region each summer up to 2020. Training was temporarily halted since then due to pandemic concerns, but is set to resume in 2022.
That influx bolstered the local hospitality and retail sectors in Medicine Hat and at CFB Wainwright, which also hosts exercises.
More than 220 permanent staff specific to BATUS are stationed either on the base, or live in Medicine Hat, supported by 166 DND personnel.
About 600 Canadians in total are employed at the base, which is also home to a Canadian Defence research station, which hosts biological and anti-terrorism training for small contingents of NATO troops. Canadian land forces also use it for training exercises.