Bow Island Children's Festival equipment to see upgrades
Posted on December 6, 2021 by 40 Mile Commentator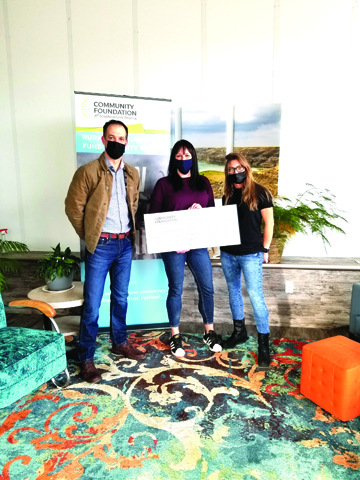 Photo Submitted From left, Clint Thacker, chair of the Rural Community Fund of Forty Mile advisory committee , Kim Mitchell and Kelly Thacker, members of the Friends of Bow Island Library Society Ccmmittee were on hand to recieve the grant funds.
By Justin Seward
Commentator/Courier
The Community Foundation of South Eastern Alberta has awarded $113,627.50 to 14 charities across the southeast region as a part of their Fall Smart and Caring Community Grants recently.
One of those charities was the Bow Island  Library Children's Festival project, who were the recipient of $7,047,50 of that funding and will go towards new equipment for the event.
The Children's Festival had to submit a list of upgrades to  the Community Foundation.
"I think we're ready to push send as soon as we get that cheque for sure," said Kelly Thacker,  Friends of Bow Island Libary Society commiteemember .   "We could seek out what we wanted to buy and yep we're ready."
Equipment that will be replaced will include a  pop-up tents, activity centres and supplies, tables and chairs.
"A lot of it has just been handed down and donated," said Thacker, on the current equipment.
"Some of our activity centres are quite old—they look old— and they are old."
"The funding from the Smart & Caring Grant gives us greater confidence that we'll be able to hold the Bow Island Children's Festival for 2022 and years to come. The pandemic has taken so much away from our children and our festival will bring back some positivity, excitement, and community engagement for them to look forward to. We would like to thank the Community Foundation and our own Rural Community Fund of Forty Mile for recognizing the importance of our event and providing significant support to our Society," said Kim Mitchell,  Society committee member
The Children's Festival  will begin to do more fundraising in the new year where committee members will ask local businesses for monetary donations.
The event is looking for volunteers.
Smart and Caring Community Grants support communities across Southeastern Alberta by enhancing belonging of all citizens and strengthening the non-profit and voluntary sectors. Donors choose this fund as a way to allocate their contributions to support the community's greatest needs.
"We are so grateful to work alongside the Rural Advisory Committees in Brooks, the County of Forty Mile, and Special Areas 2, 3 & MD of Acadia, to ensure the greatest needs in our communities are being supported. Our funding priorities this grant cycle focused on Mental Health, Work & Economy, and Vulnerable Populations. Thank you to our incredible group of volunteers who make up our Grants Committee," said Cheryl Pocsik, CFSEA Grants Committee Chair in a statement.
Fall 2021 Smart & Caring Community Grants
Organization, Project , Fund(s), Grant Amount
• The Connection Intercultural Association of Medicine Hat
Kindness Box
4,000.00
• Medicine Hat College Foundation
Mental Health Series – The Beej Project
10,000.00
• Shortgrass Library System
Code Red
10,755.00
• Medicine Hat Family Services
Computer Upgrade Project
12,000.00
• Miywasin Friendship Centre
Ribbons, Fabric, Connection to Culture
8,690.00
Field of Interest – Roy & Elaine Weideman
1,310.00
• Brooks and District Women's Safe Shelter Society
Playground
830.00
Field of Interest – Growing Active
1,570.00
• Brooks Bombers Baseball Association
Inflatable Batting Cages
9,630.00
Field of Interest – Savanna Drilling
370.00
• Empress Friendship Centre
Outreach and Support
12,000.00
• Canadian Red Cross Society
Elimiminating Health Equipment Loan Program Wait Times
14,740.00
Field of Interest – Environmental Legacy
260.00
• Kerby Centre
Medicine Hat Tax Clinic for Low Income Seniors
4,145.00
Field of Interest – Mayors fund
480.00
• Big Brothers Big Sisters Association of Medicine Hat
GoGirls & GameOn Program Expansion
10,800.00
• CAREERS The Next Generation Foundation
Connecting SE AB Youth to the Skilled Workforce
3,000.00
• Cleo's Karma Canine Rescue
Washer and Dryer
–
Field of Interest – Environmental Legacy
2,000.00
Total Grants
113,627.50
-With files from Prairie Post