Mayor Reynolds, town councillors take home AUMA awards
Posted on December 6, 2021 by 40 Mile Commentator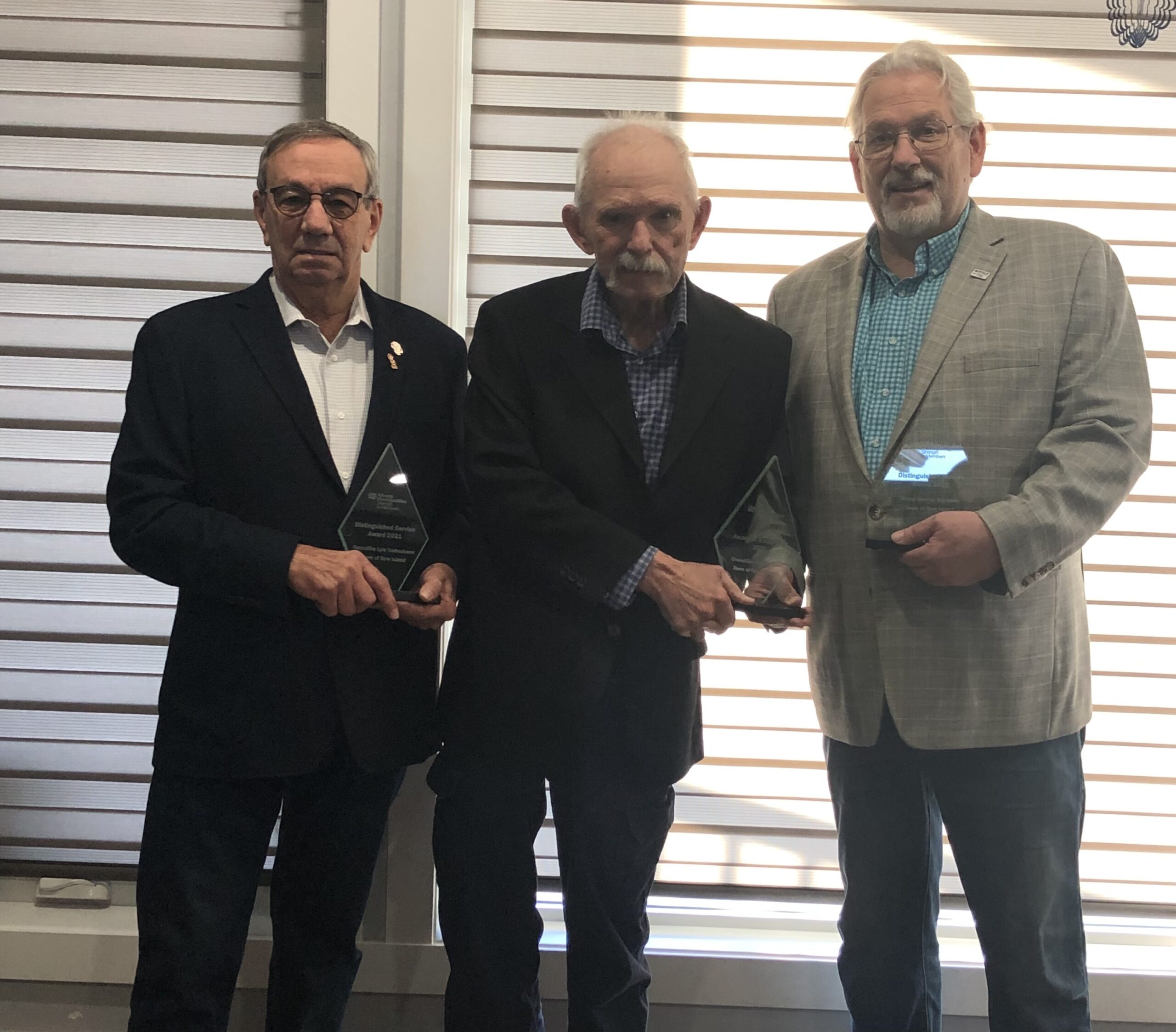 From left, Lyle Tuchscherer, Alan Hyland and Gordon Reynolds display their AUMA awards recently.
by Justin Seward
Commentator/Courier
Bow Island Mayor Gordon Reynolds attended the Alberta Urban Municipalities Association (AUMA) conference in Edmonton from Nov. 17-19, and it was him along with former Couns. Lyle Tuchscherer and Alan Hyland came away with awards.
Reynolds and Tuchscherer took home a Distinguished Service Award each for 20 plus years of service.
"It's not really why you do the job, but at the same time it makes you stop and think about some of the many reasons you do the job," said Reynolds.
"I really thought a lot about the people that have supported me in the job. Number one would be my wife Cyndy—I've done this with her encouragement and at times her urging—and always appreciated the support. The support of staff that I've worked with for 23 years in council and obviously the support of the public. I really thought a lot about the various people I worked with on council, all of whom were committed to doing the best thing they could for our community and a variety of people—a variety of backgrounds (and) a variety of experiences."
Reynolds said you don't get an award for your 20 years' service if people don't re-elect you or allow you to be acclaimed.
"I don't take that lightly—that's pretty humbling and really consider it an honour," said Reynolds.
Hyland received the Award of Excellence for displaying outstanding civic leadership—which went to three people in the province.
"It feels good," said Hyland.
"It feels like somebody has been listening all that time and it's not only people here, it's the people I met along the way and it's sort of how involved I was in everything. Sometimes I'd like to read that and say 'Jesus, did I do all that?'"
Hyland received the Distinguished Service Award in 2016.
"I knew previously that what was then called the AUMA  did recognize long service," said Tuchscherer.
"So, it didn't really surprise me. But it's nice to get that kind of recognition in front of the whole conference. It's sitting on my mantel right now and I appreciate it."
The Town of Bow Island's involvement with AUMA was about attending the conferences.
"You then become a part of the group that sends a voice to Edmonton," he said.
"We discuss and vote on those type of things. So, the participating in AUMA is kind of secondary. You're first role as a councillor is local and AUMA at that point is and still now are more provincially targeted. So, what I learned from AUMA is visiting and having a chance to collaborate with various councillors from different areas and understand what some of their problems are and their concerns, how they overcame their problems and how they relate to the town."
Tuchscherer sat on town council for 20 years and the main reason he ran for council was to help see the town grow and keep going.
"The town has been good to me and I always just wanted to give back," said the Bow Island native.
Both Tuchscherer and Hyland were not able to attend.
The three council members were nominated by council in August.
Other local regional winners include Redcliff Mayor Dwight Kilpatrick and Coun. Jim Steinke taking home a Distinguished Service Award.
AUMA was rebranded during the conference to Alberta Municipalities.