Redcliff RCMP unveils Safe Exchange Zone
Posted on December 6, 2021 by 40 Mile Commentator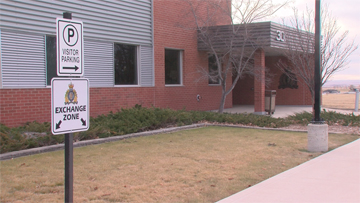 Commentator/courier Photo submitted by Al Rivard Redcliff RCMP has established a Safe Exchange Zone in front of the detachment for strangers to comfortably buy, sell and trade items.
By Justin Seward
Commentator/Courier
Redcliff RCMP launched a Safe Exchange Zone initiative in front of the detachment a couple of weeks ago.
"It was an idea that was brought up a few months ago," said Redcliff RCMP acting detachment commander Sgt. Al Rivard.
"Our enhanced county officer Const. Rebecca Wilkie suggested (it) and we made up the signs and the signs arrived. And we just decided that due to some risks involved with regards to online exchanges and businesses, we just felt that we could provide a safe location for people to either sell or find items online."
The Safe Exchange Zone will "add that next level of safety and security when meeting an unknown person to do an exchange," said Rivard.
People who are planning to do an exchange can convene in front of the detachment in the two parking stalls marked by a sign.
"Anybody can use it," said Rivard. "We just want to remind the public we don't monitor parking spots and we're not able to meet the exchanges."
Rivard said Redcliff RCMP has not seen the same issues that the bigger centres like Calgary, Red Deer and Edmonton are having with regards to robberies and assaults when it comes to online exchanges.
Rivard confirmed there are several police agencies around that are doing similar projects.
Redcliff RCMP recommend the following tips to stay safe during an exchange including conducting a transaction during daylight hours, meeting in a busy public place, bring a friend or family member with you to witness the transaction and retain emails, texts or voicemails between yourself and the buyer/seller.
The RCMP Safe Exchange Zone is well lit for night time exchanges and available at all times with no appointment necessary.