Orange Door Project accepting donations for RYC
Posted on December 14, 2021 by 40 Mile Commentator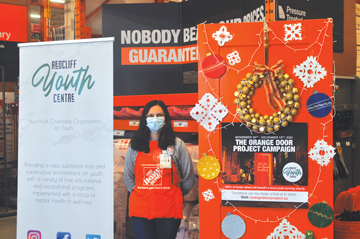 Commentator/Courier Photo by Justin Seward Liberty McPherson is this year's Orange Door Project holiday campaign captain for the Medicine Hat Home Depot store.
By Justin Seward
Commentator/Courier
Redcliff Youth Centre is participating once again in Home Depot Canada Foundation's The Orange Door Project holiday campaign.
The annual Project launched on Nov. 30 and runs until Dec. 19 and is meant to put a focus on ending youth homelessness in Canada— which is at 20 % in Canada.
All the funds raised will go towards the RYC's preventative life skill programs, resources and services that are offered free to youth.
Liberty McPherson is the Orange Door Project captain for the Medicine Hat location and her responsibility is to execute the project by making sure the signs look good, the cashiers and sales associates have the ability to sell Orange Door donations and understand the campaign.
"Home Depot's core values are doing the right thing and building strong relationships," said McPherson.
"So those go back to the foundation of Home Depot and being involved in our community is one way we can drive home our core values as a company. It's really nice to have this community involvement and the good relationship that we have with the Redcliff Youth Centre."
McPherson said they are having a lot of customers in the building and that will help them get more donations.
"Also, people are buying presents and holiday gifts—so that's going to help us increase our donations," she said.
RYC has participated in the campaign since 2018 and has been selected every year since for the campaigns—which has resulted in a good relationship with the Medicine Hat Home Depot.
"I think as a youth organization, we have got very meaningful and impactful programs to help youth thrive," said Janae Ulrich, RYC executive director.
"And I think that because we have so many youth registered with our agency—we've got close to 300 youth that we serve—and providing something that is available for them in their community that they have free access to— that they're able to go to and have access to vital resources, services and programs to help them flourish and give them life skills …,  I think is just an essential part of community. I think partnering with the Home Depot—that's what they really embody is community."
Ulrich said thousands have been raised since 2018.
The donation total was at $1,316 as of Dec. 8.
"We're about a week in, so that's pretty good," said McPherson.
The target goal is $4,000.
When customers go through the tills, they will be asked at the end of the transaction if they would like to donate to the RYC.
Donations are in any increments of $2 and be made in store or online at http://www.orangedoorproject.ca.