Redcliff recycling centre to be operational in New Year
Posted on December 14, 2021 by 40 Mile Commentator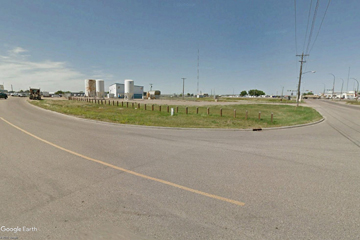 Redcliff's recycling centre will be located at 702 South Railway Drive SE.
By Justin Seward
Commentator/Courier
Redcliff residents will be able to use the new recycling centre beginning in the New Year.
A project that was a year in the making will see four bins placed on the site at 702 Railway Drive SE.
"It was approved last year to have the recycling depot during budget and then we've worked through some of the issues and concerns we've had and are quite happy to be able to provide this service in the New Year," said Phyllis Forsyth, Redcliff's chief administrative officer.
Bins are expected to arrive in January after the tender for bins was awarded last week.
"We're hoping that our residents will use and recycle a little bit more and put less stuff into the landfill ," said Forsyth.
Site preparation began in October with removal of the top soil and the construction of the new bay structure for when the trucks come for pick up, a new asphalt approach was paved and fencing was installed all around to make sure the recyclables that don't make it into the bins are not blowing around and can easily be picked up by staff.
Acceptable recycling material  include newspaper, office paper, cardboard, plastic and metal.