St. Michael's School ecstatic for return of senior boys basketball
Posted on December 14, 2021 by 40 Mile Commentator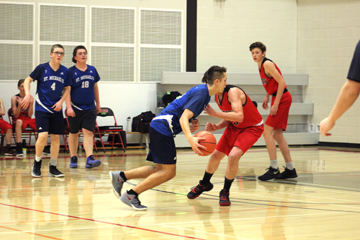 Commentator/courier PHOTO Submitted by Melinda Mastel St. Michael's Benny Bergen drives from the top of the key to penetrate into the circle against Senator Gershaw on Dec. 6.
By Justin Seward
Commentator/Courier
Dec. 6 marked the return of senior boys basketball at St. Michael's School for the first time in at least nine years.
"But senior boys—this is definitely the first senior boys program since I've been here—this is my ninth year here," said school principal Chris Sumner.
The long layoff without senior boys basketball has been due to low numbers.
"We got sometimes just not the numbers to facilitate a senior team," said Sumner.
"And in addition to that, when you've got lower numbers, a lot of our guys play hockey start to centre in on hockey in their Grade 10, 11 and 12 years. If you're going to run a senior program, you want to have a decent schedule—you want to practice a number of times a week. You know  if you have a number of guys playing hockey, it just won't work with smaller numbers."
What helped make a team possible this year is St. Michael's was able to land three players from Cherry Coulee Christian Academy—who also played on the school's junior team and are familiar with the coaching and school— and one player had more interest to play basketball over hockey this year.
"I think we've got seven or eight players on the team and so again given the input from Cherry Coulee as well as non-hockey players, primarily has allowed us to field a team this year," said Sumner.
It means a lot for the school's athletic department to have the return of the team.
"I think senior programming, when it's possible, just means a lot to the wellbeing of a school," he said.
"Certainly, in the past, we've never had a problem running senior (girls and boys)volleyball regardless of numbers because hockey initially doesn't get really rolling until November."
The return also helped boost school spirit as there were parents and students in the crowd at Senator Gershaw School.
The Bears lost to the Gators in the game.
Sumner believes after not having the boys in any basketball games for a long time, that you have to ease the players back by practicing the fundamentals, foot work and the simpler side of the game.
"It's going to have to be growing  individual games, team game and looking to be more competitive next year," he said.
The team will be playing in the River Ridge league in a full schedule and in three tournaments.