Troy Loney Charity Golf Classic raises $585,000 for Splash Park
Posted on December 14, 2021 by 40 Mile Commentator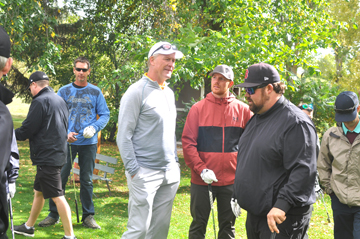 Commentator/Courier photo by Justin Seward Troy Loney mingles with other golfers in the Troy Loney Charity Golf Classic on Sept. 16 at the Bow Island Golf Club.
Submitted by Craig Couillard, Golf Classic co-chairmen
The Troy Loney Charity Golf Classic  was held in Bow Island on Sept. 16 and raised a staggering $585,000 in support of the Kale Porteous Memorial Splash Park.
It was the largest single fundraiser ever held in this small rural community of about 2,000 people.
"Bow Island is my hometown.  I worked for Kale's grandfather on their ranch. My mom still lives there so Bow Island will always be special to me," says Troy Loney.  "I knew this year's edition of the golf tournament would be big but I never dreamed we would raise $585,000.  That's very gratifying … and humbling at the same time."
The Kale Porteous Memorial Splash Park will start construction at Centennial Park in Bow Island next year with the hope it will be fully operational by summer.
"It probably will be the largest splash park in southern Alberta," indicates committee co-chairman Ryan Thurston who is also Chairman of the Bow Island & District Recreation Board. "A splash park has been on our radar for nearly a decade so we're very grateful to the Troy Loney Charity Golf Classic participants, donors and sponsors for making this dream a reality."
It is still not too late to become a donor.   "People are still wanting to support the Kale Porteous Memorial Splash Park, some in memory of a family member," indicates Co-Chairman Craig Couillard.  "Donations of $500 or more will be recognized on a plaque to be erected at the Splash Park."  For more details, send an email to troyloneygolfclassic@gmail.com