RCMP provides Holiday Season safety tips
Posted on December 21, 2021 by 40 Mile Commentator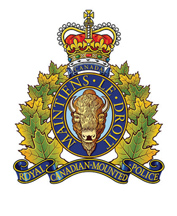 By Justin Seward
Commentator/Courier
Bow Island RCMP wants to remind people this Christmas to be safe through simple tips.
The police's main focus will be on impaired driving with December being the Holiday Season.
"So, we are making sure that we are out there doing patrols and then on the lookout for those sort of things," said Cst. Adam George, Bow Island acting detachment commander.
"As I mentioned, no specific check stops have been planned at this time, but we work fairly closely with the integrated traffic section out of Redcliff and they're also in the area at this time of year as well."
This is George's first Holiday Season in the Bow Island detachment area and he does not anticipate the impaired driving calls to be busy.
"Typically, we don't have a huge number of impaired driving files that we have to investigate," said George.
"So, in general, I would say most people are doing the responsible thing in this area. But we encourage that of course."
People are encouraged to plan ahead of time when they decide to go out drinking by ensuring they have a safe ride home—whether that is someone at the party that is the designated driver for the evening or a planned ride home at the end of the night from someone else.
George said the Bow Island detachment is fully staffed and members will be working through the Holiday Season.
"Our hope is that when we do run check stops that it can be a positive experience for us and for members of the public to see that we are out there and ensuring their safety and of course when a sober driver travels through it's just an affirmation that they are doing the right thing and doing their part for the community," said George.
The riskier activity during the Christmas season is buying and selling items online.
"The biggest risk would be of course the online kind of garage sale things like Facebook Marketplace and similar websites," said George.
"Buying purchases online from major chains and major stores is relatively safe. But of course, when you're dealing with purchasing from just an individual, there are potential risks that somebody could be looking to defraud you of your money—so just appropriate background checks. If there is an option like PayPal—of course that's a more secure way of making online purchases as well."
George said people should be wary of any purchases that they're making and personal information that they're releasing or banking information.
"I guess if you do have parents or friends that you feel are in that vulnerable category just to be watching out for them and checking in on them as well," he said.
If someone is away from their homes during the Holiday Season, they should have motion-censored lights, cameras, people having an eye on your house and being careful of what is posted on social media,
Winter road safety tips RCMP recommend include giving yourself extra time to get where you're going due to rapidly changing road conditions and a vehicle check-up to ensure its safe for winter driving.