Cypress County experiences ups and downs in 2021
Posted on December 29, 2021 by 40 Mile Commentator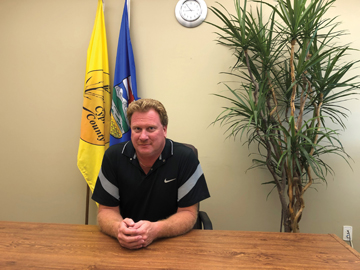 County Reeve Dan Hamilton
By Justin Seward
Commentator/Courier
Cypress County Reeve Dan Hamilton said with COVID and everything, it's has been a stressful year in 2021.
"We've had some ups and downs," said Hamilton.
"(We) had some tragedies with councillors (deaths of Darcy Geigle and Alf Belyea)—that part was really rough on a lot of the council. I think we're still dealing with it and getting over it right now."
The county advocated for the assessment model review with provincial ministers.
It was a couple of years ago that shallow gas prices dipped and many companies were in support of how the assessment was dictated and advocated to receive more discounts as it was felt that that they weren't being treated fairly.
"Long story short, industry is advocating for a discount, which would take away about $8.3 million (roughly one-third of the budget) from Cypress County," said Hamilton.
"We're trying to say that everything is fair equitable right now across the board—pay your taxes. Don't try and change the tax burden by changing the assessment."
Hamilton continued to advocate on behalf the county for HALO Air Ambulance.
"We're not getting through to the minister," he said.
"Obviously the minister was changed in 2021. I've addressed the new health minister Jason Copping—I addressed him at RMA (Rural Municipalities of Alberta). He understands where we're coming from, but he isn't fully up to date on what HALO is. I'm going to give him until the first of the New Year and then I'm going to be on him hard to let's get going with this, we need sustainable and predictable funding for HALO. Enough is enough—it needs to be done."
Cypress County 2021 accomplishments include the rehabilitation of Township Road 120 and several bridge replacements were done, the wastewater master plan completion, recreation master plan and municipal development plan.
Looking ahead to 2022, the municipality has committed to finishing off parks in Dunmore and Suffield, the county is hoping to see the  $3 million inSTIP funding for the Old Trans Canada Highway north of Redcliff come through, four additional bridge applications were submitted  in 2021 for 2022 to support the county's commitment to the bridge asset management plan, revisions will be done to the Land use Bylaw to become a more updated modernized document for the ease of the public and storm water management plans will be worked on for Irvine and Seven Persons.
Two major culverts in the Schuler area will be address and with the support of the province address the infrastructure at Seven Persons Creek and Township Road 120.
Two bridge replacements will take place at Graburn Road and the other over the Seven Persons Creek.