Hidden Valley Ski Resort to open Jan. 6
Posted on December 29, 2021 by 40 Mile Commentator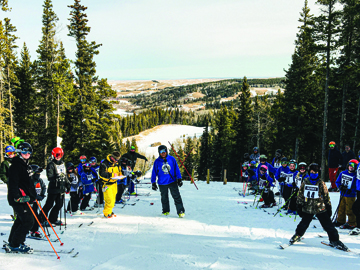 Skiers gather at the top of one of the runs at Hidden Valley Ski Resort in this undated handout photo from a group responsible for a last ditch drive to save the upcoming season. It was announced last week the hill will open Jan. 6.
By Samantha Johnson
Commentator/Courier
After months of uncertainty, Hidden Valley Ski Hill is set to open Jan. 6, as confirmed through the ski hill's Facebook page last week. The province has taken over operations this season but plans to reopen bids to find a new operator for the hill.
The Elkwater Ski Club was instrumental in getting the hill to open again this season.
Morgan Blair, board member with the club, is excited about the upcoming season.
"Hidden Valley's continued operation this season impacts our club in many ways. We are a group of prairie people who love skiing and whose kids love skiing too," Blair said. "For us, our time on the hill is as much about building relationships, community, and resiliency as it is about skiing. Continued operations mean that we will keep building a community of young skiers in southeastern Alberta. It means we get to watch our skiers' self-confidence, friendships, and technical skills develop through a sport that would otherwise be inaccessible to many in this region. And it means the sense of extended ski family that our club fosters will continue to thrive."
Bridget Burgess, communications advisor for Environment and Parks with the Government of Alberta shares similar sentiments.
"We know how important Hidden Valley is to the community and we are looking forward to welcoming visitors back to the slopes in early 2022. Right now, we are focused on making snow, and hiring and training staff to deliver exceptional outdoor recreation experiences."
After opening, Hidden Valley's website (https://skihiddenvalley.net) will post updates to COVID protocols as operations at the hill are still affected by the pandemic.
"We are looking forward to welcoming visitors back to Hidden Valley; however, the safety of our skiers and staff continues to be our priority. Our lifts will be running, and we will be offering lessons and other amenities, including our cafe and rental shop, which will be participating in the Restrictions Exemption Program. Our full COVID-19 protocols can be found on our website," said Burgess.
Blair remains positive, "A late opening of the hill means we will have to pack all the fun into a shorter season. Alternatively, in the past we have occasionally extended our season with trips to other ski hills for big mountain training. That may be a possibility this year as well."
There is strong support for the hill from the general public as well. Blair says, "interest in the club is strong this year, with many new and returning families joining us. We still have room for a few more, so if you know a skier between the ages of 5-16 who can ride the chairlift, control turns and stop on command, please visit http://www.elkwaterskiclub.com."
Jobs are still available at the hill and include caretakers, a snow school supervisor and snow school instructors. More information can be found at AlbertaParks.ca or the Hidden Valley Ski Resort website.
Ski memberships are now available for pre-purchase at https://shop.albertaparks.ca/. Daily passes will be available beginning Jan. 4.