Motz feels the same issues will be carried into 2022
Posted on December 29, 2021 by 40 Mile Commentator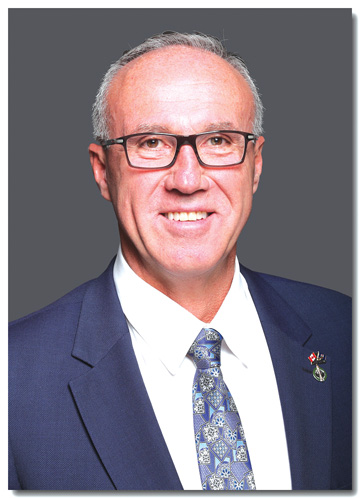 MP Glen Motz Ottawa, Ontario, on 18 October, 2017. © HOC-CDC Credit: Christian Diotte, House of Commons Photo Services
By Justin Seward
Commentator/Courier
MP Glen Motz feels Canadians will have to endure carryover issues from 2021 to 2022.
"I guess we're going into 2022 in the same way – there's still no clear plan in this perpetual pandemic," said Motz.
"I'd love to give a flowery outlook. But the reality is Canadians have some challenges and we're not going to get past them by ignoring them and hope they go away – we're going to have face them head on."
Motz highlighted struggles in 2021 for Canadians, including rules on vaccines and the impact they've made, restrictions, farmers experiencing drought, continued government spending going unabated, a $1.2-trillion debt and increasing inflation rates – which could reach an estimated 5% this month.
Motz said his No. 1 focus is his riding.
"They're resilient people – but most of them struggled," he said. "It's impacted small businesses – they've had higher prices, they fought to stay open while they're facing higher prices of goods that they bring in and sell.
"They have supply issues – there's increased payroll taxes that they're facing now and they have an ongoing labour shortage that certainly seems to be front and centre."
The Conservatives continued to advocate for rural broadband – which he feels is a must in rural Canada, and legislation continues to be worked on to ensure farmer fuels are exempt from the federal carbon tax.
"It's trying to give people hope," said Motz.
"We've been dealing with hundreds and hundreds of people from a personal office perspective who are struggling with COVID supports, travel and immigration and things like that."
Canadians were also faced with an election this past fall.
"First of all, I won't deny the fact that we were hoping to get rid of Trudeau," said Motz.
"Trudeau and the Liberal policies are certainly ruining the country and I will say that I am ashamed of it – I'm embarrassed for our country because of him and the policies that are ruining us. But there was no need for an election, nothing changed, we spent $600 million on an election for his own vanity."
Motz felt the Conservative Party was front and centre in 2021 for the federal pandemic response to ensure supports were made for small businesses and that adjustments were made due to Ottawa's decision making for supports.
"I think the Liberals continued to drop this ball – it's a failure from day one," said Motz.
The Conservatives were able to see through some removal of Liberal tax hikes for families that were transferring their farm and businesses through Bill C-208, looking at areas of the COVID-19 response benefits, the continuation of pressing for action on inflation rates, the housing crisis and seeking supports for hard-hit regional sectors in the economy.
"We finally got the Liberals here a week or two ago to acknowledge that there is an inflation problem," said Motz
"But their plan is nothing, and hoping to get away with it is not good enough."
The Conservatives continue to push the Liberals to ban Huawei after five years and continue to push for a stronger stance against China.
"The Liberals have voted against that move every opportunity they got – so we're hopeful that 2022 might be the year we finally get a Huawei ban," said Motz.
Looking ahead into 2022, Motz hopes for an end to the Liberals' approach of the pandemic and pushing the government to create a plan for affordability for seniors and lower income citizens, boost the economy with lowered taxes and strengthen relationships with the United States and United Kingdom.
Editor's note: This story has been corrected to state "legislation continues to be worked on to ensure farmer fuels are exempt from the federal carbon tax," rather than "farmer fields."
Share this story:
Subscribe
Login
Please login to comment
0 COMMENTS