Vickerman taking the 'service to your community' approach into byelection
Posted on January 18, 2022 by 40 Mile Commentator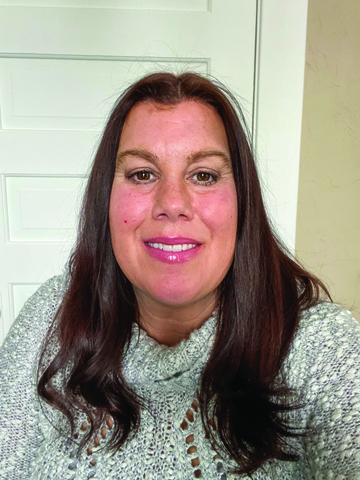 Layla Vickerman
By Justin Seward
Commentator/Courier
Layla Vickerman has entered her name into the ring for Cypress County's Ward 9-Suffield byelection on Feb. 7.
Vickerman and her husband Andrew have been living in Suffield since 2015.
A byelection was called due becasue of the death of Coun. Alf Belyea in October.
Belyea was set to become acclaimed in Oct.18 municipal election. He had been on council prior since 2014.
"As it came up time for him to rerun this year, we talked about this was his last one," said Vickerman.
"And mentoring—so that when the time came four years down the line or so—that I would run. Obviously with the things that happened, that changed. I didn't know I would be ready at this point. At the same time, I think if you're going to go and become a part of council, it needs to be with an attitude of service to your community. You can't be looking at what's important to you with Cypress County but what's important to your neighbours and the people down the road."
Vickerman said she does not like the idea of seeing no race for that position.
"To have somebody come in just like myself who doesn't have experience with being a council person—to just be able to come in and not have a race—I'd really like to see some healthy competition there because that makes both people work better for their constituency," said Vickerman.
She would like to see better affordable and reliable internet access come to the county.
"It's something I know council is already working towards," she said.
"But I think we need to keep moving towards that. I know there (are) grants on the federal government level. We have such a huge variety of people within the Suffield ward—like we're not just talking in town—but you have your ranchers, you have your oil and gas, you have your farmers, ex-Patricians, ex-military, senior (and) there (are) a huge contingent of disabled people in Suffield. Every single socio-economic part of that benefits from reliable internet and our world today doesn't function without it either."
Her relationship with Belyea was very good because the concerns ended up getting met.
"Every interaction I had with Alf was very good and he's the one that made me realize that one person being persistent, being respectful could affect change," she said.
"Alf left some pretty big shoes (to fill) in our community—not just as a councillor— but he was involved with our community hall, he was involved with his neighbours," she said.
Vickerman learned as a car salesman for many years that you have to communicate effectively.
"You need to be able to be an effective communicator and be able to listen and properly understand people's problems because to me selling cars was always problem solving. Somebody's missing transportation means a change in transportation—how do we do that to make sure that they're benefitted and happy at the end of the day.  If you can't solve that problem, you can't sell a car," she said,
" I think my ability to both actively listen to the people at the table and be able to present arguments in such a way that people don't automatically get their back up will benefit both the council and my community. You have to be able to play well with others to work effectively in council."
Vickerman is currently a homemaker and volunteers her time with animal rescue.
She plans to door knock in the coming weeks and can be reached at (403) 363-3149.
The Suffield Community Hall will host voting from 10 a.m.-8 p.m. on  Feb. 7 and an advanced vote from 10 a.m.-4 p.m. on Feb. 5.
Vickerman will be up against Keith Ritz for the seat.