Adaptive Sport and Recreation opening opportunities for local athletes
Posted on January 26, 2022 by 40 Mile Commentator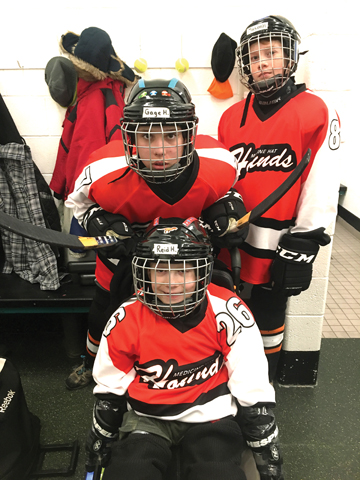 Submitted Photo The Hintz brothers have been enjoying playing together on the sledge hockey team.
By Justin Seward
Commentator/Courier
Medicine Hat Adaptive Sport and Recreation is a non-profit organization that was established in 2014 under The Paralympic Sports Association and is opening up opportunities to those athletes that may not otherwise get a chance of competing  in  sports.
MHASR's focus is to provide physical activity opportunities that are designed in mind for individuals with disabilities to become active, but can also be garnered towards promoting activities for non-disabled people.
Over 30 per cent  of the players that participate in MHASR's program are from out of the Medicine Hat city limits in Redcliff, County of Forty Mile and Cypress County.
It was right around when MHASR's was getting off the ground and running that Tara Chisholm, MHASR's program coordinator, returned to Medicine Hat to do her Thesis and the question she posed was why was there many more opportunities for people with disabilities in large cities compared to smaller centres.
"I was doing research and interviewing people living with disabilities in our community, all across actually, not just Medicine Hat, but some of our rural folks too," said Chisholm.
"So, yeah, we started talking, and we started figuring out some of the barriers and then we started to do something about it I guess."
When Chisholm came back to the Hat, there was only wheelchair curling offered and one fitness program and left limited choices for people who wanted to be physically active that have disabilities.
"That's when we started to just bring in different pieces of equipment, different sports and do try-it days; and then people told me what they liked and didn't like," she said.
"And then I started to build programs around kind of what the public let me know."
Their focus is to make that first introduction into sports and making the experience positive and keep people active as possible for life.
"We know again not only from people with disabilities but without, sport and physical activity is going to be beneficial—not just to the actual sport itself—but outside of sport and just staying physically healthy," she said.
Participation from players will allow players to develop social skills and leadership skills to take in their own volunteer work and jobs.
Chisholm expressed her gratefulness for those athletes coming into town, while teams will drive to Bow Island and Redcliff to play games.
"It's really awesome because we have people from all over the southeastern corner here," she said.
"It's awesome because it brings awareness to those communities too or (a) lot of those kids are in 4-H or they're in other clubs or they're going to school in rural communities and we bring out wheelchairs or sledge hockey into their school—so all their friends who live in those rural communities can be exposed through Adaptive Sport too and learn what they do."
Austin Yanke, who grew up south of Seven Persons,  lives with a genetic disease called Adrenoleukodystrophy, which causes damage to the membrane that covers the nerve cells in the brain and on the spinal cord and participates in wheelchair basketball and golf.
"He loves basketball—so (it)allows him to still play basketball and meet some new people," said Lisa Yanke, on the Adaptive Sport opportunity for her son.
"He had been golfing a few times when he was a little more able-bodied. But even golf this year gave him a lot more opportunity to try different sports."
She sees the Adaptive Sport avenue giving Austin some more sense of independence.
"I think it's such a huge asset because it offers all kids (and) adults to play sports no matter what they're disability (is)," said Yanke.
The young Bow Island brothers of Gage, Mason and Reid Hintz all began in the organization this year with sledge hockey.
"It is so cool to do something together and be on the same level," said the brothers in a conjoint statement.
"It's amazing," said the boys' mother Rebecca.
"Adaptive sports leagues bring a sense of family along with it and we're hanging out together and want to see each other do the best. There's not a rivalry, there's a competitive safe space."
Hintz notices in her youngest Reid, who battles Arthrogryposis Multiplex Congentia— which describes a variety of conditions involving multiple joint contractors at birth— is grinning ear to ear with his brothers.
Rebecca said Adaptive Sport allows Reid to have a bigger network.
"Like I said, this year, he gained a whole crew," she said.
"I can't remember how many kids are exactly are on the team. But there's close to 20 kids that now got his back."
Chisholm added, "By far, some of the rural participants are by far our biggest advocates and biggest people for spreading the word."
MHASR wants to continue to respond to community needs with gaps identified and suggestions of new sports to try.
MHASR also runs adaptive curling, adaptive cycling, adaptive golf, boccia, and wheelchair basketball.
More information can be found at http://www.MHASR.com.