NPF making efforts to keep RCMP in Alberta
Posted on January 26, 2022 by 40 Mile Commentator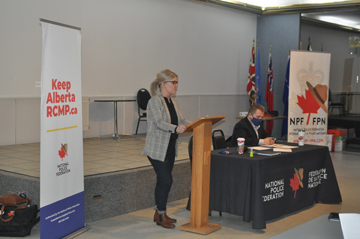 By Justin Seward
Commentator/Courier
The National Police Federation made a stop on their KeepAlbertaRCMP tour at Royal Canadian Legion Branch 17 in Medicine Hat on Jan. 20 to host a public consultation in hopes of keeping the RCMP in the province over Alberta's idea of implementing a provincial police service.
The province is proposing to replace the current Alberta RCMP with what would turn out to be a smaller, more expensive provincial police service (APPS), costing Albertans over $550 million more for fewer fully trained police officers, says NPF prairie and north region director Kevin Halwa.
The transition costs would range between $366-371.5 million in up-front costs and see $185 million forfeited in annual federal government contributions. Comparatively, Halwa says there would be no costs associated with keeping Alberta RCMP.
"The goal of the public engagements sessions that we're conducting from the National Police Federation's perspective is to get the message out there and provide some fact-based information and some clarity to the people of Alberta," said Halwa.
"After the release of the (PriceWaterhouseCoopers) report in November, people are left with more questions than answers. The government is not providing any information – so until somebody else steps up doing it, we will. The information we're passing out there, we're not making it up. The vast majority of the information we're presenting comes from the PwC report – we're kind of just flushing it out and explaining to people what that all means."
NPF calls the money being distributed for this transition "astronomical" and the risk to public safety is concerning.
NPF raises the concern of RCMP programs that have taken many years to develop.
"To expect that those programs can be easily replicated and quickly replicated is nonsense," said Halwa.
"There's also a fair bit of corporate knowledge that stands to be lost if we move to a provincial police service. For example, you don't become an excellent homicide investigator overnight, that takes years and years to develop those skills."
The current Alberta policing model shows there are more than 20,000 volunteers across Alberta who support RCMP programs.
There have been questions fielded on the training and how police officers will be found to begin with.
"Policing, right now unfortunately, is not the attractive career it once was for young men and women – which is unfortunate because I've enjoyed every second of my job," said Halwa.
"So, recruitment is a difficult task and where are those bodies even going to come from is a question mark."
Halwa said the biggest issue with the PwC report is it didn't set out to engage or interact with any of the communities themselves to see what they wanted.
"So as a result, there was no public engagement," he said.
NPF have engagement sessions booked right up until the end of April and will do more if necessary.
Once the tour is finished, a detailed report will be compiled and sent to the government.
The NPF has met with 100 municipal leaders, conducted three rounds of public opinion research across the province and met with stakeholders at various community events over the past year.
Results showed that 80 per cent of Albertans served by the RCMP are satisfied, 84 per cent are not in support of a transition and 92 per cent want details of costs and impacts.