CFSEA Community grant application opens Feb. 3
Posted on February 1, 2022 by 40 Mile Commentator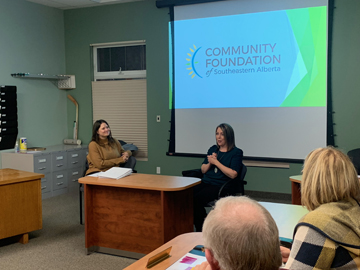 Commentator/Courier Photo by Justin Seward Rural Community Fund of Forty Mile coordinator Michelle MacLean and Community Foundation of South Eastern Alberta acting executive director Niki Gray provided an update to Bow Island town council in this Nov. 8, 2021 file photo.
Commentator/Courier
The Community Foundation of Southeastern Alberta is set to launch their Spring 2022 Community Grants upon completion of the grant writing workshop on Feb. 3.
"All registered charities, qualified donees, and non-profits are welcome to attend the virtual workshop to learn about the updated Grant Guidelines," as read in the release.
CFSEA has four rural funds including the newest one being the Cypress County Community Fund followed by Brooks and District Community Fund, the Rurual Community Fund of Forty Mile and the Prairie Crocus Community Fund.
Each grant application received will be reviewed by an advisory committee that is familiar with the areas and its needs.
If there is interest in the CFSEA's community grants, an RSVP can be sent to admin@cfsea.ca to join the virtual workshop on Feb.3 from 12-1:00 pm.
The Spring 2022 Community Grants deadline is March 15.
In the fall of 2021, CFSEA supported 14 charities with over $113,000 supporting a vibrant, healthy, and caring community. Please visit cfsea.ca for more information on Community Grants.