Truckers convoy to oppose vaccine mandate
Posted on February 1, 2022 by 40 Mile Commentator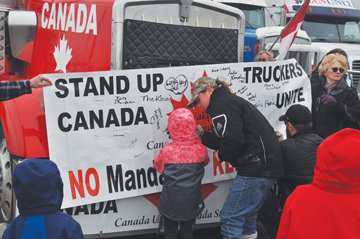 Many supporters showed up for the Freedom Convoy 2022 at Redcliff's Trukker's Restaurant on Jan. 24. Truckers were convoying to Ottawa in hopes of answers to the COVID-19 vaccine mandate that is required of truck drivers to cross the Canada/U.S. border.
By Justin Seward
Commentator/Courier
Truckers from all over western Canada began their convoy to Ottawa on Jan. 24 in hopes of convincing the federal government to change their decision on a mandated COVID-19 vaccine for truckers to cross the Canada/U.S. border.
Hundreds of supporters came out with flags and signs of support.
Chris Barber is from Swift Current and was a convoy co-organizer—which was also called Freedom Convoy 2022— and spoke to the Courier at Trukker's Restaurant stop in Redcliff.
"The straw that broke the camel's back was customs, having to show your passport to get across the border for your COVID shot, that's what initiated this whole thing," said Barber.
"And then it spilled into the Canadian people. They want the mandates lifted and they're all rallying around this."
As of Jan. 15, the Canadian government requires all truck drivers entering Canada from the U.S. to show proof of full vaccination, regardless of citizenship. Any driver who cannot provide proof of vaccination will be denied entry. The U.S. government has implemented the same policy.
Barber said the impacts are "huge" with now approximately 35 per cent of Canadian truck drivers not being able to cross the border to bring Canadians foods and their goods.
"Some of them don't want to be vaccinated and that should be their personal right," said Barber.
The message to Ottawa upon arrival is, "We're coming and we want some answers."
That message will not only be directed at the COVID vaccine mandate but the Carbon Tax that is killing small businesses—including trucking companies.
"That's an extra cost on every driver out here, it's a lot," said Barber.
"The electronic logbook mandates come in now. Having the electronic logbooks in the truck for the last four years—me being a U.S. carrier— that's been mandated down there. I find we race the clock all day long instead taking the proper breaks we were supposed to before. So, address some of the issues in this country."
The reality would be the lack of goods and services in the grocery stores.
"A lot of stuff at Walmarts, they're bear right now, and that's a direct impact of these mandates at the border—regardless of what the government wants to tell you, "he said.
With the trucking driving shortages, companies are hiring whoever to sit in the seat and operating a truck with limited experience.
"And that's scary," said Barber.
Burdett's Bob Dykstra has been trucking for 45 years and is doing the trucking for his family.
"Because according to me, Canada is oh glorious and free, but the free has a big question mark behind it right now," said Dykstra.
"I think we have to do this for the next generation. Otherwise it's going to get away on us. They started talking about this months ago already and even just  figuring —there's 20 to 30 per cent of the trucks— I have friends that say, I'm not doing it. I have friends that run a cross-border busines sand it puts them in a place where I have friend that said, 'Hey, I'm 64 years old, I want to do this for a couple more years, but I'm quitting.'"
Cypress-Medicine Hat MLA Drew Barnes was in support of the convoy.
"I'm so supportive of these truckers," said Barnes.
"They not only know this is their duty to stand up for their freedoms and stand up for our economy and especially our children— they have the courage to do it. So the very least I can do is come out and support them."
Barnes wanted to remind the public that there isn't two places in the world that are more interconnected than Canada and United States.
"30,000 trucks a day and here we are when supply chains and inflation are already jeopardized (and) here we have a federal government jeopardizing our safety, our security and it's absolutely wrong," said Barnes.
"Secondly, we're also looking at a situation where this moves into the endemic stage, we've seen it in Medicine Hat as much as anywhere—COVID has brought other crisis as well and this is only going to magnify the mental health, the economic and physical health crisis. So, it's time to restore some freedoms."
-With files from Kendall King, Southern Alberta Newspapers