Irvine Agriculture Discovery Centre receives boost with community generosity
Posted on February 9, 2022 by 40 Mile Commentator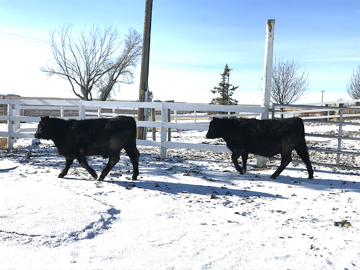 Photo submitted by Nichole Neubauer The Irvine Agriculture Discovery Centre received two donated steers from Shortgrass Ranches recently.
By Justin Seward
Commentator/Courier
The Irvine Agriculture Discovery Centre program is well into its planning ahead of its first season, and the local ag community has provided a boost with generous support recently.
The ADC was donated two round bale feeders from South Country Co-op, two steers were donated from Shortgrass Ranches, which will be raised by the students, and Prairie Rose Public Schools board of trustee Cathy Hogg donated two lambs.
"We are just incredibly grateful for the support of community," said Nichole Neubauer, ADC coordinator"So what's happening is the program is really gaining some momentum and people who are passionate about educating youth about agriculture …are really wanting to know how they can get behind our program. And so these donations and the incredible generosity of community is just awesome and it's going to allow us to take this to a whole new level."
While community donations have now been a main focus for the program, ADC does have a future wish list of items that will need to be covered.
"We' have some very specific items that we're still needing for the Discovery Centre, from Bobcat and backhoe work to troughs and polypipe for irrigation systems. We still have a lot items we need to buy and donations we receive is going to make the program that much better."
Irvine School principal Trent Rayner said the ADC will take all the help they can get.
"The more help we get from the community, the more we can give back to the community and all of this stuff together is why Irvine School is so great," said Rayner.
Rayner says the basis of this whole idea is going to be community driven.
"Of course the basis of it is Irvine School itself and the students directly," he said.
"But everything we do here, we try to tie in with the community and have a community focus."