Library program planning well underway in hopes of a return soon
Posted on February 9, 2022 by 40 Mile Commentator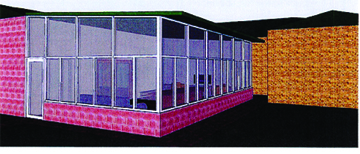 The Susan Andersen Memorial Library's solarium is expected to begin construction this week in this 2018 file photo
By Justin Seward
Commentator/Courier
Bow Island Municipal Library has been without most of its programming since March 2020 and are cautiously planning for a return of those activities sometime in 2022.
The Library is hopeful for a return soon  of their usual programming including Friday pre-school story time—which is trying to start up currently—  Summer Reading Program, which  was hosted last summer, and adult-type programming ranging from information sessions to different crafts.
"It's still a little slow with looking too far into the future," said Kathryn Van Dorp, library manager.
"But, yes, we are certainly thinking of having some programs and such for the kids."
Van Dorp said libraries have had to put a lot of things on the back burner.
"Or of course we have had programs, we have had to modify them somewhat to meet the current health restrictions," she said.
egrowing with of their  partcipants
"We've lost a lot," she said.
"We know we're going to have to gain a lot back too."
Van Dorp commends public  libraries for doing a tremendous job in terms of delivering services during the pandemic.
"Everybody is still leaving happy with the things they need," she said.
The purpose of programming has been to provide outreach and allowing people to come into the facility, but without those events, Van Dorp says the library has lost connection
"That probably our biggest hurdle— we're rebuilding again."
Van Dorp hopes for a spring return of programming," said Van Dorp.
Any programming updates can be posted on  the library's social media platforms.