NDP calling for Hunter, Getson to be booted from UCP caucus
Posted on February 9, 2022 by 40 Mile Commentator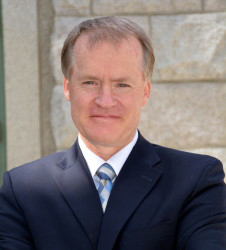 Grant Hunter Taber-Warner MLA
By Justin Seward
Commentator/Courier
The Alberta NDP is asking Premier Jason Kenney to boot UCP Taber-Warner MLA Grant Hunter and Lac Ste. Anne-Parkland MLA Shayne Getson out for their actions recently.
The reasoning for calling for Hunter's caucus removal is for his attendance in an unprecedented border blockade in which Premier Jason Kenney called illegal.
In a Facebook post on Jan. 29, Hunter posed with his family in front of a lineup of big rigs and included the statement, "I brought the grandkids down to the Coutts border today to show them the importance of standing up for freedom and liberty."
"I can't believe I have to say this but an elected Member of the Legislative Assembly must not prevent essential goods from entering our province and block emergency vehicles from attending to Albertans in need," said Alberta NDP transportation critic Lorne Dach.
"Grant Hunter cannot continue to speak as a member of the government."
On Jan. 30, MLA Getson posted a screen capture to his Instagram account for his support of the blockade with statements such as "End the vaccine, "Drop the mandate," and "scrap the whole QR code thing."
Alberta's official opposition  leader Rachel Notley responded to the UCP MLAs actions.
"This is dangerous and irresponsible rhetoric, and it's unacceptable for someone who speaks like this during a public health crisis to remain part of the governing caucus," said Notley.
"The vast majority of Canadian truckers are vaccinated and working day and night to transport vital goods to Alberta families and businesses, even while this small minority prevents them from doing their jobs.  Grant Hunter is taking part in a blockade that the Premier and the RCMP have both declared illegal. It is completely untenable for him to continue as a member of the government caucus."
Hunter did not respond to the Commentator's interview request by press time.
With files from Trevor Busch, Southern Alberta Newspapers