North Forty Mile 4-H Club implements equine project
Posted on February 16, 2022 by 40 Mile Commentator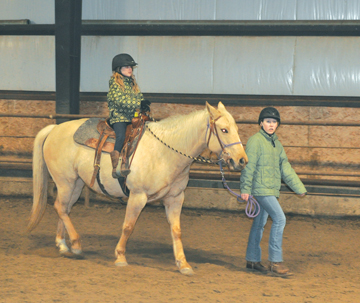 Commentator/courier PHOTO by Justin Seward Mya Hodgson rides her horse, Kalita, while Shayla Hodgson helps her with control during North Forty Mile 4-H Club's equine project warm up exercises at Kielstra Arena on Feb. 9.
By Justin Seward
Commentator/Courier
Local equine enthusiasts Christy Martens and Kimberly Hodgson met with the North Forty Mile 4-H Club last fall with hopes of including an equine project on the club's list this year.
Both Martens and Hodgson were given the go ahead to run the equine project  and the hope is to give 4-H members some skill development in the winter.
The equine project requires club members to keep a record book of what they feed their horse, activities that are participated in throughout the year and costs incurred for feed.
"Right now we're just focusing on mostly just instilling a love of horses, getting horsey people together in the community and just having fun," said Hodgson, equine project lead.
"We've done some different skills and stuff here and then we usually end with some fun games which the kids love. And honestly playing the games get you really skilled too because you have to learn to control your horse on a tight turn."
The goal by the end of the project is feel more confident on the horsemanship skills.
"I think the biggest thing is to go out there and have fun and to see a smile on their face and they're doing something they love," she said.
The riders have been working on basic seat positions, discussing beats for different gates—the walk being a four-beat gate, the trot being a two-beat gate— and getting the horse to move with rider pressure and weight to name a few.
4-H member Alayna Martens was really excited to learn about the equine project because she wanted something to do more with her horse Jynx.
"I'm just not very experienced yet and I want to learn more about how I can work with him," she said.
"I really want to learn how to turn him nicely because he's wanting to go forward and run­,not to turn nicely, and I want to learn how to do speed events—so like barrel racing and roping."
Riders are working through Level 1 skills, before moving on to dismounted and mounted skills.
Guests can contact Hodgson at (403) 580-6323 if they're interested in attending a session.
Equine 4-H requires the rider to have their own horse.
A hope is to do trail rides in the summer.
An achievement day will be held at the end to showcase some of the skills the members have learned.