Bow Island businesses are relieved at lifting of Restrictions Exemption Program
Posted on February 23, 2022 by 40 Mile Commentator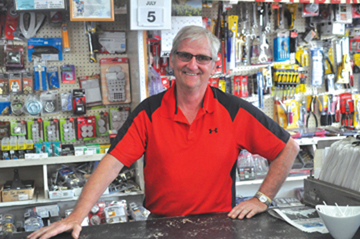 Commentator/Courier File Photo Bow Island Hardware owner Robin Knibbs
By Samantha Johnson
Commentator/Courier
As the Alberta Government begins to take steps to return to normal, with the lifting of the Restrictions Exemption Program (REP) on Feb. 9, mandatory masking in schools and of children 12 and under in all settings on Feb. 14, the general feeling in Bow Island is one of relief.
"We aren't totally sure yet, but we, obviously, would be very excited if everything were to be dropped. It means a little more business for us and not having to discriminate or ask for medical information," said Nella Wolfe, owner of the Rolling Pin Bakery & Café in Bow Island.
Wolfe feels there is still a lack of clarity. Since the March 1 date for the lifting of the mask mandate is predicated on the continuing decline in hospitalizations across the province, there is no guarantee it will happen. In addition, there is the remembrance of the mask mandate being lifted before and then reinstated, so optimism is somewhat cautious but still apparent.
In schools across the province there doesn't seem to be a full embracing of demasking, with some students walking out in protest. An injunction was filed by the Alberta Federation of Labour in conjunction with some concerned families challenging the removal of masks in schools, but it was quickly defeated. The next two weeks will show a clearer picture of how the initial lifting of restrictions impacts the province and if the government will go ahead with Step 2 on March 1.
Maria Sasp, manager at the Silver Sage Motel in Bow Island is excited to see things return to normal. "We will be very happy and when we see everything gone it will be so much easier for the business."
For Sasp, some of the difficulties with the REP are that "it makes everything more complicated because when you have people come into the office you have to ask them each time to wear a mask. Without the masks, people can just come in, you do your thing, and then you are done. It has affected business quite a bit because lots of people don't want to wear a mask or do social distancing. It will feel way more comfortable when we don't have to follow all those rules."
Robin Knibbs of Bow Island Hardware said the restrictions haven't really affected his business except for the masking. However, he added that, "it's a good thing and will put lots of people at ease. It takes the burden off us and will bring the community together. It's about half and half of those who wear masks into the store and when confronted, will put one on as we have them at the front counter. It is the restaurants who were really affected most strongly by the restrictions."
As of the end of day on Feb. 16, there were 16,551 active cases of COVID in Alberta, with 1,491 in hospital and 116 in intensive care. All these numbers are lower than the day before, but the number of deaths has increased by 18 in a single day. If the number of hospitalizations continue to show a downward trend, then the March 1st date for Step 2 of restriction removal will go ahead as planned.