La Hacienda brings a taste of Mexico to Bow Island
Posted on February 23, 2022 by 40 Mile Commentator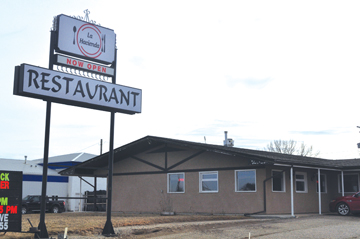 La Hacienda offers a variety of Mexican dishes and pizzas.
By Justin Seward
Commentator/Courier
La Hacienda opened across the street from  the Bow Island Subway in the  old fashion store last October and is providing local diners an authentic Mexican food experience.
The restaurant offers a mix of Mexican food, ranging from tacos, chilatas, fajitas, chicken chipotle and pizza to name a few dishes.
Guillermo Cyck and wife Maria own La Hacienda and Mama's Kitchen in Grassy Lake and arrived in Canada from Mexico in 2017 and their vision was to start their own restaurant.
"My wife was always dreaming of (one) day getting her own restaurant," said Cyck.
"Then we thought, this was a free country to live in and make her living and (running) our own business—that's how we started— and yeah found a decent place where thought was a good area to get a restaurant going."
Cyck felt it was,a good idea to bring a different food into the community.
"I would say 90 per cent are excited to comeback," said Cyck,
La Hacienda does both dine-in and take-out.
Cyck has ideas to expand the restaurant with the addition of meeting rooms and a drive-thru coffee stop.