Senator Gershaw students continue to learn about plant growth
Posted on February 23, 2022 by 40 Mile Commentator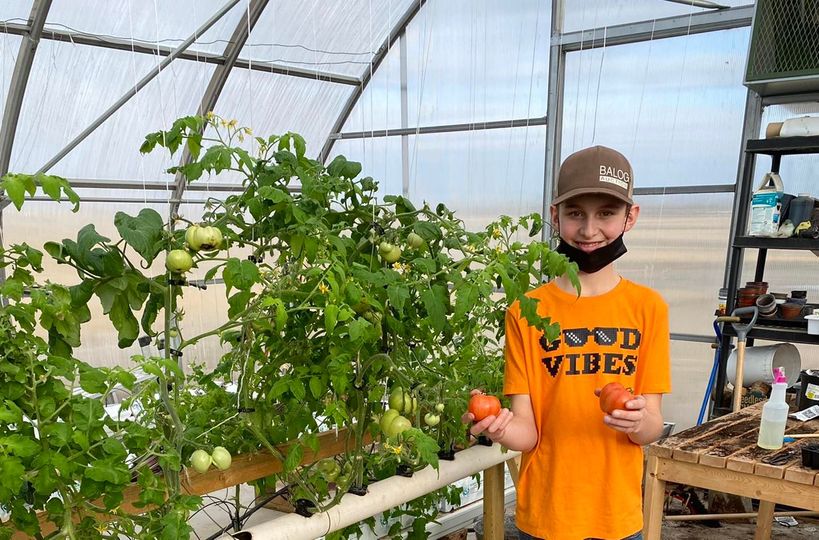 Commentator/courier PHOTO submitted Rylan Lane is pictured holding a couple tomatoes grown from seed through hydroponics in the school's greenhouse.
By Justin Seward
Commentator/Courier
Senator Gershaw School's Greenhouse and Agriculture Class' focus for students is to learn about greenhouse management.
The class incorporated junior high students this year in the fall semester.
"Junior high students learned the beginning processes of the greenhouses," said Scott Angle, school principal.
"With the greenhouse shut down over the summer, it was the junior high students (responsibility) to get it set up for the year. This entailed working with the irrigation systems and starting new plants. Students had the opportunity to work with hydroponics and soil-based growing. Junior high students worked with plants directly from seed—that caused the process to take longer. In the early part of the fall students worked with our school garden to get the products of our what was planted in June."
Students were given the opportunity to grow cucumbers, peppers, tomatoes and lettuce.
Plant growth experimentation was done with different types of corn, brussel sprouts, asparagus, onions, strawberries raspberries and other herbs.
Students also grew different types of flowers, ornamental grass and became adventurous with banana, Christmas cactus and poinsettias— which the school hopes to develop more for the next Christmas season.
"Students learned through experimentation in both hydroponics and soil-based growing," said Angle.
"Furthermore, students used growing lights during the later fall and winter season to see the difference in growing production."
With a new group of high school students this year, the focus is on all aspects of the greenhouse— including the entrepreneurial aspects of developing a business model, profit margins and marketing.
"We have presenters that are experts in the field of greenhouse management as well as entrepreneurs," said Angle.
"This is a different group of high school students than last year. Therefore their learning will be similar, however, we are always adapting and aiming to maximize the space and type of plants in our greenhouse."
High school students are learning how to grow the staple vegetables of cucumbers, tomatoes and peppers.
Students will work with different types of flowers, as well as the starting of garden plants that can be transferred to the outside garden in the spring.
"​Students are definitely learning about different type of plants and the process in growing them," said Angle.
"This class shows how food gets from seed to plate, how to do that as efficiently as possible with great tasting vegetables."