Poorhouse Players to present 'Encounter at Heavenly Gulch'
Posted on March 1, 2022 by 40 Mile Commentator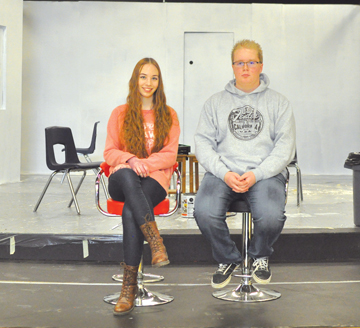 Commentator/Courier photo by Justin Seward Rylie Schielbelbein and Ayden Rooks are looking forward to see how their characters develop during the Poorhouse Players production of The Encounter at Heavenly Gulch later this month.
By Justin Seward
Commentator/Courier
Senator Gershaw School Poorhouse Players are set to present Pioneer Drama's "Encounter at Heavenly Gulch"later this month.
"Encounter at Heavenly Gulch" is about bus passengers travelling solo across country and end up trapped in the middle of an Arizona desert and after walking for miles, the group stumble across the small town of Heavenly Gulch.
Mabel, an owner of a local hotel, her son Albert, Sheriff Tidbits and local resident Cyrus offer the group refuge from the harsh desert sand until a rescue party can arrive.
"I think the play has a real good story because all of the characters are on the bus for different reasons, but they're all trying to figure out who they are and get through problems that happened in their lives. So, it's sort of like a self-discovery type of story," said Rylie Schiebelbein, who plays René,
Schiebelbein said René never had a family.
"Everyone (has)  a very different personality and it just creates a good contrast and I like that," she said.
Ayden Rooks will play Mr. Burton, who is a very rich aristocrat that has a big personality and makes it well known he is higher than everyone else.
"He's an authoritative figure and he likes to boss people around," said Rooks.
This will be Rooks's first time of any sort of performance and is looking forward to being with his classmates and getting to know his character better.
"I really am interested in the different opportunities this character presented," said Rooks.
"I've been presented with a blank slate—I could go all sorts of different ways with my character. You know as you watch the play, my character develops and it gets more interesting and I think that's really cool."
Rooks says it was disheartening watching the characters on a screen last year—due to COVID—because you couldn't see those actions and feelings that those characters usually express.
"It's going to be very interesting this year when people come back and I hope it's going to be a great success," said Rooks.
"Encounter at Heavenly Gulch" will be playing at the school's theatre on March 31, April 1 and 2 at 7 p.m.
Tickets are $15 each and will be on sale starting March 8 and information can be found on the posters that will be up around Bow Island.
"We are thrilled to be expecting a live audience again this year," said Ali Vos, Poorhouse Players director.
"Just the interaction between the cast and the audience and how they build and play off of one another is what we're hoping for most this year. This crew has been very responsible, very coachable and very enthusiastic—which means our rehearsals run very smoothly—so we have high expectations and high hopes for the performance."