HALO Air Ambulance launches second annual lottery
Posted on March 4, 2022 by 40 Mile Commentator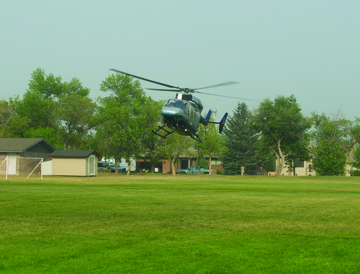 Commentator/Courier HALO's BK-117.
By Justin Seward
Commentator/Courier
HALO Air Ambulance launched its second annual lottery with a slight change.
The inaugural lottery of Cattle er' Cash in 2021 has changed its name to the Cattle er' Cars fundraiser this year.
"So (we are) back with Highland Angus and the family has been amazing, and big supporters," said Paul Carolan, HALO chief executive officer.
"We did that this year, back again with them this year, and then we added Medicine Hat Volkswagen."
The grand prize is 25 bred heifers from Highline Angus or a 2022 Volkswagen Atlas.
"So just a different way of doing it and jusr trying to  stick with that rural and urban side of things, and no matter who wins, there's something to choose and to make a big difference in your life," said Carolan.
Carolan was asked about the change.
"Yeah, we want to keep growing the lottery. So I think having a bigger grand prize and more prizes overall was important and so you know trying to be creative. The cash thing was a cool idea and it was great way out of the gate originally."
A a $7,500 loyalty prize was drawn on March 3 , while a $5,000 early bird prize, a $3,000 second place prize and $2,000 third place prize will be up for grabs.
"So $80,000 in the main lottery (is) up for grabs," said Carolan.
A 50/50 was also added this year based on feedback from 2021 and has a $100,000 jack pot attached. The winner will take half the winnings.
50/50 tickets will have different packages available.
Grand prize tickets are $100 each and 4,000 are available.
Tickets are available at http://www.haloairamblaunce.com.
The lottery draw will be on June 30 at the Halo in the Hangar event.
"This has the ability to become one of the perennial fundraisers for the program," said Carolan.
The hope is have more tickets and prizes in the future.