Successful carnival for Bow Island Skating Club
Posted on March 31, 2022 by 40 Mile Commentator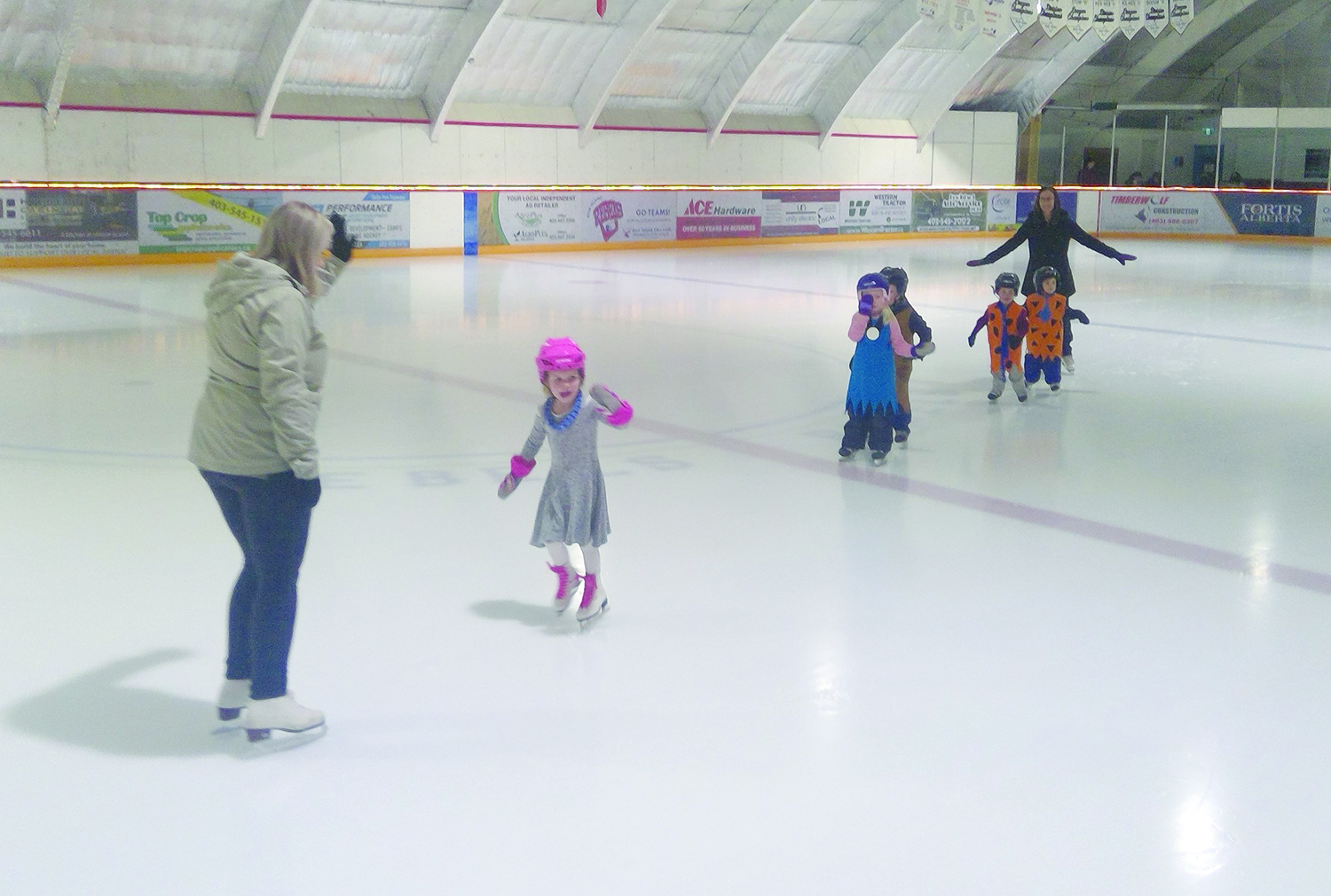 The PreCanSkate group were skating to the theme from The Flintstones with Coach Amanda Conquergood, Brooklyn Wikkerink, Charlie Thacker, Leeam Hopkins, Mason Pahl, Westin Wudrich, and Program Assistant Jocelyn Nelson. PHOTO BY SAMANTHA JOHNSON
By Samantha Johnson
The Bow Island Skating Club held a carnival on Sunday, March 20 with a great turnout. Amanda Conquergood, coach of the club, said, "I was very happy to see such an awesome turn out this carnival, it was great to see the rink full once again and all the smiling faces. This year's carnival was a huge success after such a hiatus."
As the skating club is such a vital part of the Bow Island community, Conquergood is aware of how happy many people were to see the carnival return. Everyone is looking forward to the next season where it can be further expanded and things that haven't been allowed during the pandemic can be brought back.
A great deal of work is required to put the carnival on each year. "From the coach, program assistants, the board members to the volunteering parents. Making it all come together for the skaters and the community definitely takes a bunch of us," explained Conquergood.
The Bow Island Skating Club is a learn to skate club that offers Pre-CanSkate, CanSkate, and StarSkate programs. They have had many skaters who start at the club and then go on and play hockey, ringette and/or continue with figure skating. "Our programs start with our youngest in PreCanSkate age three, all the way up to StarSkate for those up to 18 years of age" elaborated Conquergood. "PreCan and Canskate offer up ribbons and badges once levels are completed, and StarSkate sessions have tests and competitions for skaters to attend."
Conquergood has been coaching on and off in Bow Island since 2009. She started skating when she was three years old and began competing at seven, continuing to compete until she graduated from high school in 2007.
To read the full story, pick up a Commentator/Courier issue or subscribe to an ePaper digital subscription! You can sign up for digital or traditional subscriptions on bowislandcommentator.com by clicking subscribe under ePaper on the home page.