Prairie Rose to open firefighting academy in Dunmore, Bow Island
Posted on March 30, 2023 by Ryan Dahlman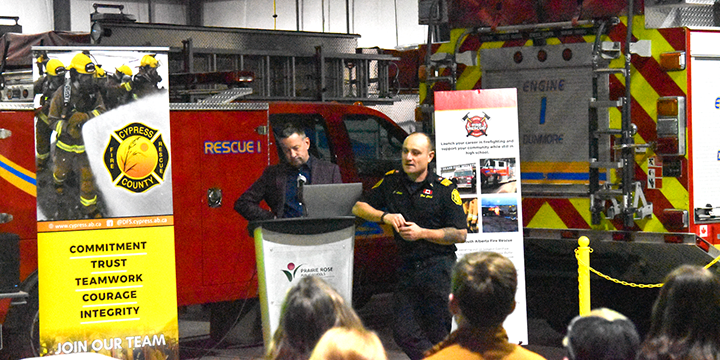 By Anna Smith
Commentator/Courier
Out of the classroom and into the fire, the latest Prairie Rose Possibility is looking to make trained firefighters out of students, as shared at their March 21 information night at Dunmore Fire Station.
The Academy is a shared project between the division, Cypress County's fire department, and the Bow Island fire department, as they bring in certified instructors to teach high school youth the ins and outs of being some of the best and brightest that volunteer first response has to offer.
The Academy will be available at Eagle Butte and Senator Gershaw Schools for grades 11 and 12, and will provide the training needed to start volunteering, including taking the requisite exams provided the student is 18 years of age when the time comes. If not, the student will be able to join in the next time the station is offering exams.
"South Alberta Fire and Rescue Academy provides a hands-on opportunity for students in grades 11 and 12 to experience the firefighting profession, cultivating integrity, leadership and excellence, students, instructors, firefighters and performance professionals collaborate to provide academic and real world experiences that leverage every student's strengths," said Boyd Craven, assistant superintendent with Prairie Rose. "Our vision is to create a real world educational experience for critical students and firefighting leading to an increase in volunteer firefighters in Cypress County and 40 Mile, that was kind of our goal."
The academy will focus not just on practical skills, but on the traits needed for successful fire and rescue work, and the skills to take care of themselves and their mental health in high-risk environments.
Like other academies, said Craven, the courses would take place during the school day, though it was noted that there would likely be a large amount of weekend work, as the academies' respective fire departments took students out on various field trips for practical experiences.
"If it's not a police issue, and it isn't an EMS issue, firefighters do everything else. So it's just not fighting fires," said Jason Linton, emergency services coordinator for Cypress County. "We do search and rescue, and we do self-confined space medical emergencies. We fly with HALO. We're going to be broadening horizons, you might not get an official certificate, but we're going to take you to Elkwater for a day and maybe go on a brand new boat that Mr. Fisher has, do some water rescue training or maybe we'll put you into the water when it's minus 30 out to do some ice water rescue training. So there's been a bunch of field trips outside of just firefighting because we do way more, fighting fire is actually the least among the things that we do."
While some parents raised concerns at the evening about holding students responsible in such a potentially high-risk situation for training, Craven assured that every member of the program will be held to the utmost standards of conduct as they would in any other part of the division, and everything will be done to ensure that all students are safe by both the firefighter instructors and division staff.
Registration for the Academy is available on the Prairie Rose website already, with information regarding medical requirements and fees available online.