Sunset Scamper in the running for future events
Posted on April 13, 2023 by Ryan Dahlman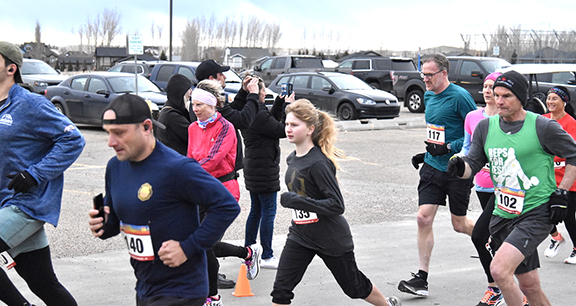 By Anna Smith
Commentator/Courier 
April 1 saw racers lined up in the dying light of the day for the beginning of the first ever Cypress Sunset Scamper, and director Darryl Smith says they're still in the race for becoming a recurring event.
"I would say it was very successful in the sense that in the end that we got the run in, also that people were happy overall with the run. And we got the numbers we were happy with," said Smith. 
There was an influx of last-minute registrations, which is common, especially with new events, but overall, Smith and his team, Dawn Funk and Jocelyn Encinas, were pleased with the community enthusiasm. 
Feedback has also been largely positive.
"Overall, they were lucky with the weather, but the plan was really good. Myself, Dawn and Jocelyn, we met regularly," said Smith. "And so our plan was something that we were very good at. And then you know, we got some really good support along the way. So I would say yeah, we're very happy with what we're doing."
Smith always tries to shoot for the stars, and finds that in this case, he's hit the moon, and is content though he already has plans to hopefully get more community out along the route to watch the racers in the future, and what can be done to make the event even better based on feedback from residents, racers, and volunteers.
None of this would be possible without the overwhelming support Smith and his team have received, however, which he was quick to point out.
"The big one was the county. I have to say, I need to give some real positive appreciation to the county. They were so supportive, they put the barriers out for us, you know they supported what we're doing," said Smith. "Of course, HALO was great. Having a school here with the Prairie Rose (School Division), and Eagle Butte High School this year, little things like even making sure the road was free of snow."
The fundraiser is expected to have raised roughly $2,000 for HALO, though final numbers have yet to come in, said Smith, though the real treasure was getting everyone together for a common cause.
"We're already talking about changes we want to make, and because it might be one, is the get the community involved and make it a Cypress Sunset Scamper, it's in Cypress County, it's for HALO and it's part of what we're doing here. And I think it opens the door for other events. That's the big one, because there's some beautiful places to run here in Cypress County," said Smith.
Smith would like to extend his thanks and the thanks of Funk and Encinas to everyone who came out, ran or volunteered, including Alberta Teachers' Association members and Prairie Rose students and staff who made this dream a reality.
"One of my students who never ran a race before, she usually volunteers for me, she ran 5k. And I'm so proud of that, that she ran 5k, just as much as what we did," said Smith. "And so if we haven't done the race, would she have ever run 5k? I don't know. And maybe there's 15 people that have never ran before. And when we've done this, maybe they would never run. So those are moments that (you) need to hang your hat on."