Redcliff dismissing its CAO
Posted on April 27, 2023 by Ryan Dahlman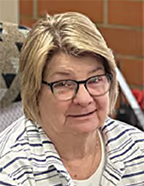 Photo submitted The Town of Redcliff is dismissing CAO Phyllis Forsyth after placing her on unpaid leave March 21.
By Collin Gallant
Southern Alberta Newspapers
The Town of Redcliff will dismiss its chief administrative officer Phyllis Forsyth two weeks after placing her on leave pending the outcome of a human resources review.
Town council met twice to discuss the matter in a special sessions March 30 and April 4, the minutes from which were published and approved at the April 10 regular meeting of town council.
The most recent resulted in a council motion to "terminate her appointment and employment with the Town of Redcliff, without cause, due to a change in leadership being required," according to the minutes.
Seven council members also voted to engage a law firm to deal with the matter and that Forsyth would remain on unpaid administrative leave until it was resolved.
Inquiries to the town's elected officials were not returned on April 13.
Forsyth had been placed on administrative leave March 21 after council again met for in-camera sessions to discuss a "personnel matter."
As well at that time, Shannon Simon, the town's legislative and development manager, was made acting town manager.
The specifics of the item are protected under Freedom of Personal Privacy legislation, according to the town, but council members emerged from the closed session to vote in favour of leave for Forsyth until the results of a study by human resources consultant Veritas were received.
In similar fashion, council met March 30 behind closed doors for one hour on a personnel matter with law firm Reynolds Mirth Richards and Farmer, but the specific subject matter was not disclosed.