Cypress County Luncheon smashing success
Posted on April 27, 2023 by Ryan Dahlman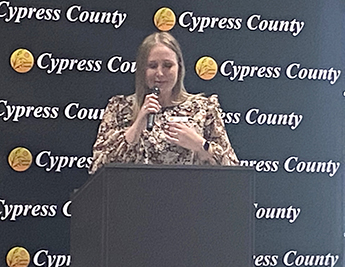 Commentator/Courier photo by Anna Smith GREAT TURNOUT: Beth Cash addresses luncheon-goers.
By Samantha Johnson
Commentator/Courier
Local Journalism Initiative Reporter
Cypress County's first ever Community Connections Luncheon enjoyed a fantastic turnout, and is looking forward to repeats in the future.
"We had over 55 people show up from county businesses as well as some of our councillors and staff people from the county. So it was fantastic," said Beth Cash, Economic Development & Recreation Coordinator at Cypress County. 
The event was a direct result of feedback from local businesses citing a lack of networking opportunities within the area.
"The Cypress County community is very fortunate to have a strong, vibrant, small and medium sized business sector. Why are small and medium businesses so important? Well, small and medium businesses provide up to 50 per cent of employment worldwide," said Tarolyn Aaserud, CAO of the county. "Isn't that crazy? That's just amazing. These businesses contribute to our general economic well being and further develop specific areas of economic and social economic development."
"These businesses create jobs, spark and promote innovation and provide opportunities for many people to achieve financial success and independence. Small and medium sized businesses are the cornerstones to maintain and develop strong, viable and sustainable communities," said Aaserud.
The event featured a "speed-dating" style icebreaker round, allowing various business owners to quickly get to know their fellow event-goers, as well as a lunch that was put together by spotlighting various Cypress County businesses.
"People were able to network and make connections and just get…acquainted, or re-acquainted as some of the cases may be," said Cash. "So it's just great to get people in the doors and get them the opportunity to meet other businesses and network."
Cash shared that they are intending to host a second luncheon in the fall, and likely continue the newfound tradition with two of these events each year, to promote connection amongst the industries.