Foremost indoor arena stage funded thanks to provincial grant
Posted on May 4, 2023 by Ryan Dahlman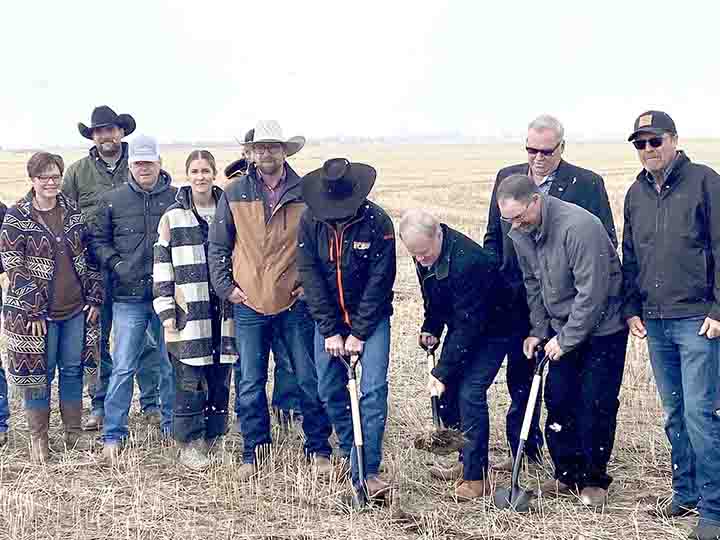 Commentator/Courier Photo by Anna Smith Breaking Muddy Ground: MLA Grant Hunter stands alongside Ag Society Board members during the onset of snowfall to break ground on the new indoor riding arena.
By Anna Smith
Commentator/Courier
Though there's still funding to be found and work to be done, the Foremost Agricultural Society has what they need to start work on the first stage of their indoor arena.
On behalf of the Ministry of Culture, Taber-Warner MLA Grant Hunter made his way out to the future site of the arena to present a hard-won grant on April 21.
"It's my privilege to be able to, on behalf of the culture minister, Jason Luan, present this check for $910,000, which is about half of what it's gonna cost to build this facility," said Hunter, at the site while the weather demonstrated why, precisely, the area needed an indoor riding facility. "One of the things I will tell you about is the reason why the minister was interested in this project, and there was lots of competition, there's hundreds of applications for this large stream."
Less than one per cent of applicants actually receive funding via these large stream grants, said Hunter, as he took a moment to commend the treasurer of the society for the grant. 
The funds cover about 50 per cent of what's needed to build the outer shell of the building. The rest of the funds were donated by members of the community, who echoed a sentiment that if small towns like Foremost want facilities like this, they need to get them for themselves.
"In smaller communities, agricultural society boards are really kind of the cultural center of their communities and so to the ag board for the vision that they had to be able to put this together, I'd like to give a real round of applause to you guys as well," said Hunter.
The agricultural society and Hunter both wished to acknowledge that this project was made possible by Foremost resident and producer Jim Hougen and the previous generations of the Hougen family, who donated the land for the arena site.