Bow Island businesses come together for spring boutique
Posted on May 11, 2023 by Ryan Dahlman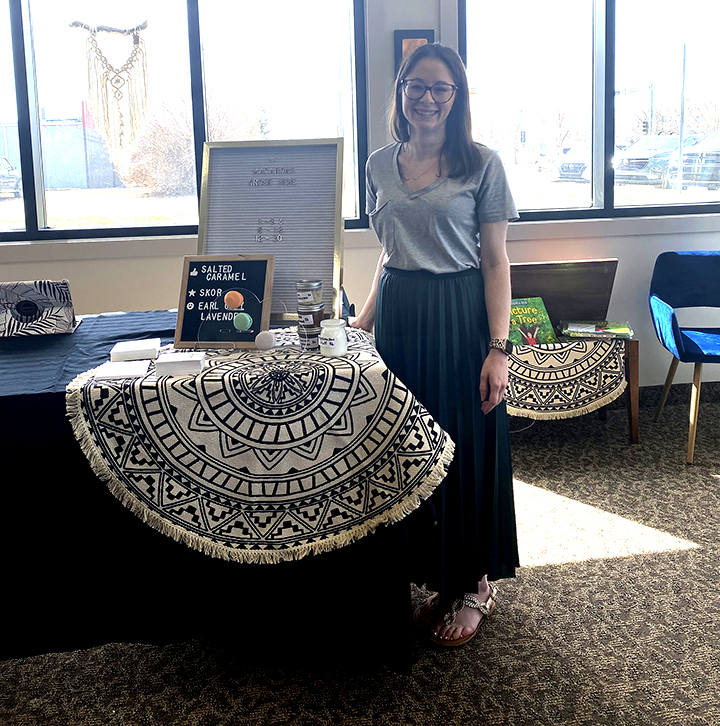 Commentator/Courier photo by Anna Smith Seasonal shopping: Pictures of the Few of My Favourite Things Spring Boutique. Tara Robertson poses for a portrait beside her Mint + Macs custom order sign.
By Anna Smith
Commentator/Courier
From May 3-7, Bow Island business owners came together to offer just a few of their favourite things in a seasonal boutique.
"We have a spring boutique of our favourite things," said Tara Robertson, owner of Mint + Macs and one of the organizers. "So favourite businesses, favourite products, from women who are around our area, some of them sell for companies, and some of them create their own products. So we came together as a collective group of women who own businesses, and we just wanted to share our products and our businesses with our town."
This isn't the first attempt at this event, having taken its maiden voyage this past winter, the initial idea put forward by Erin Stelmaschuk of Stelmaschuk Studios, and the organizers were blown away by how well it was received.
The boutique featured everything from unique art and prints, to small batch clothing, to Epicure recipe packages.
"The first time, I think we were all, really, like the five of us were really apprehensive because we had no idea how it was going to go over but we were really excited to at least try it out. And we had an amazing turnout, way better than we ever thought and dreamed for it," said Robertson. "So we're hoping that we do well for this one. And we just love that people come out. We love that they come to visit us and just take a look and we hope they tell their friends. We just want to share what we do."
The initial winter boutique was only five businesses, but since then, several more businesses have joined, and the hope is that the boutique will continue in the winter and far into the future.