Canadian Animal Task Force fixes feral cats in Dunmore
Posted on May 25, 2023 by Ryan Dahlman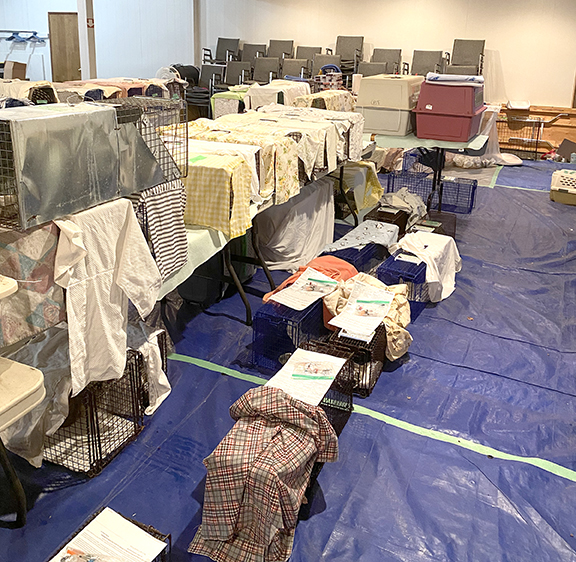 Commentator/Courier Photo by Anna Smith Rows of caged cats, anticipating and recovering from their spay and neuter surgeries at Longfellow Community Hall as part of a "trap, neuter, release" (TNR) program with the Canadian Animal Task Force.
By Anna Smith
Commentator/Courier 
Over 200 cats were trapped, altered, and returned to their caretakers over the weekend, as part of the Canadian Animal Task Forces' clinic.
"I would imagine we have probably around 160 adults, and then about 50 kittens," said RJ Bailot, executive director. "We anticipated to have about upwards of 150, but a lot of community members reached out, but they were looking for help with their cats. So we're fortunate that we're able to pull volunteers together so that we're able to get through them."
People were very receptive to their presence, said Bailot, and they consider themselves very fortunate that so many people were willing to help them get these cats the help they needed.
"There was some focus and concern about what we're doing with the cats, people were worried that we were gonna get rid of them or, you know, destroy the cats which is, of course, not what we're doing," said Bailot. "We're always looking for these humane solutions. And once you realize that, we're here to help the cats and people were extremely appreciative."
Nearly 50 volunteers, from local veterinarians to everyone else, gathered at the Longfellow Community Hall to process all of these feral cats, who were spayed or neutered, given vaccinations and treatment for any parasites, as well as permanent identification.
"As you can imagine, we're very, very busy. Thankfully, you know, neuters (are) much quicker than spays. But yeah, the vets here are amazing, the whole team is amazing. They just have a good system going and it blows my mind what can be accomplished in such a short amount of time," said Bailot. 
All of the cats will be returned to their caretakers, with the exception of kittens or particularly friendly adults, which will be re-homed.
While the task force is happy to do these clinics in the summer months, when it's safe and humane to release the cats without adverse effect, Bailot encourages those with interest in helping animals in their area to get involved with local efforts and organizations.
"We just encourage people to get involved with their local organizations, whether it be animal shelters, rescue organizations, if there's not one in your community, you know, look at starting one; these types of initiatives really need to be community driven," said Bailot. "So we really, really, really encourage people to see what's out there in their community, and to get involved because this is not a cat problem. It's a people problem. And the only way that we're going to really solve it is everyone, you know, being involved."