Dunmore Community Society opens outdoor arena
Posted on June 8, 2023 by Ryan Dahlman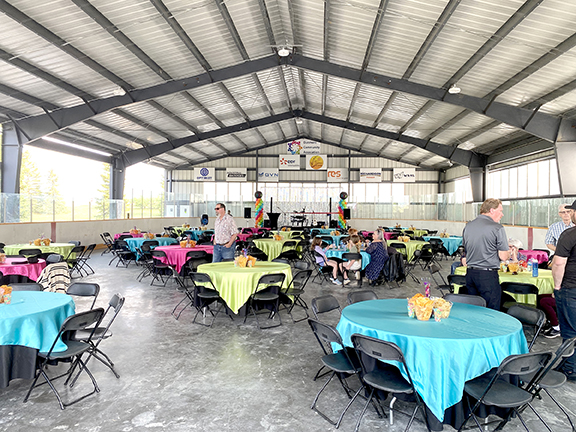 Commentator/Courier Photo by Anna Smith Opening Night: Picture of the empty EDF Renewables Outdoor Recreation Centre, ready for attendees to arrive and begin celebrating the opening.
By Anna Smith
Commentator/Courier
After years of planning, fundraising, and hard work, the Dunmore Community Association was happy to finally open the doors of the EDF Renewables Outdoor Recreation Centre.
The project was years in the making, said DCA President Trisha Drescher at the May 26 grand opening. It all started with a group of community volunteers who looked at a rundown outdoor rink and had dreams of a better facility.
"The group was a DCA board of directors and they had a dream of creating a facility that can be used in all season for services based around the community programs, and be accessible and enjoyed by all members of our community," said Drescher, who added that the group applied for various grants, sought out experts, and eventually was able to make their dream a reality. "I'm fairly new to the DCA. But as I was preparing to build here, I want to thank all of the DCA members for taking the project on and staying dedicated to it right through to completion."
The project wouldn't have been possible without their sponsors, said Drescher, offering each sponsor a plaque to symbolise their part in making the centre happen. Sponsors included Industrial Backhoes, RES, and the Medicine Hat Optimism as bronze sponsors, GVN Structures, Richardson Pioneer, and Cypress County as silver sponsors, and finally the centre's namesake, EDF Renewables, as their gold sponsor.
"EDF came on board not only with significant financial support for this project, but they also have committed an ongoing $10,000 annual grant for organizations in Dunmore around the Cypress Wind Project Area to be spent on community programs and projects," said Drescher.
The celebration included a pulled pork dinner for attendees, as well as complimentary popcorn and cotton candy courtesy of the County, and children's entertainment by the Little Red Ball Company from Calgary.