Bow Island Fire Department thrilled with turnout to anniversary open house
Posted on June 15, 2023 by Ryan Dahlman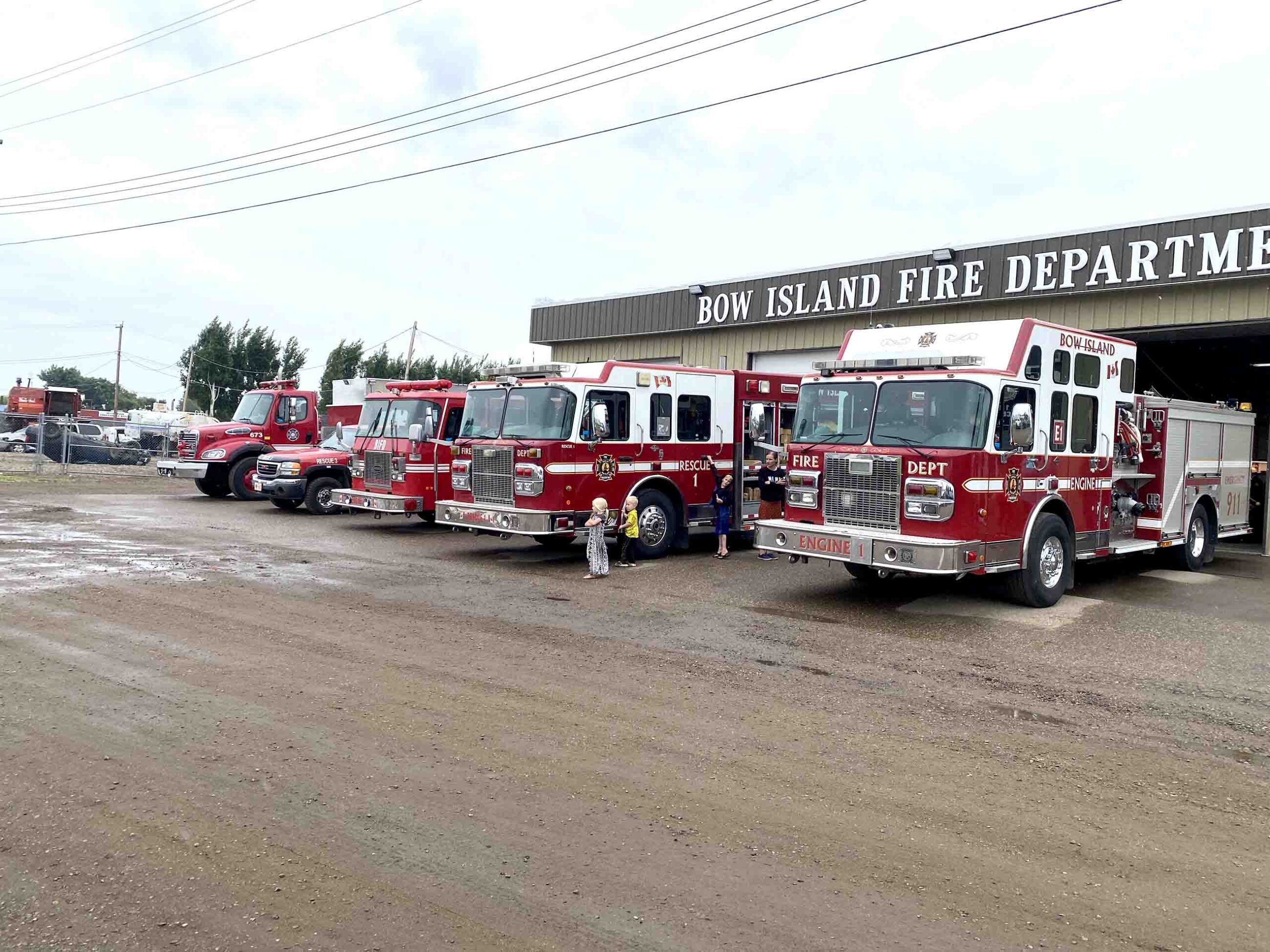 Commentator/Courier Photo by Anna Smith Lineup of Bow Island Fire trucks at the Open House.
By Anna Smith
Commentator/Courier
Despite the rainy weather, the Bow Island Fire Department opened its doors to the public on June 3 for an afternoon of food, games for kids, and celebration of their years of service.
"I was really, really happy. I think I would say between 400-500 people, I'm guessing, but it was a lot of people," said Fire Chief Blaine O'Donnell. "It was a really good day."
Firefighters served hot dogs, hamburgers, and doughnuts, helped small children through a fire-themed obstacle course, and had a series of donated items available on silent auction.
In total, O'Donnell suspects they raised approximately $10,000, which will be going towards the purchase of a new rescue vehicle unit for the station.
"We're still a little ways away. But we're working on it," said O'Donnell. 
Perhaps the highlight of the afternoon was a demonstration of one of the many vehicle rescue methods, known as "cracking an egg," which involved folding the overturned vehicle in half after cutting key places, in order to reach the "risky randy" mannequin that had been trapped in the front seat.
"Everyone really enjoyed the car cutting. It rained on us. But it was kind of neat to see it was different. We usually just cut the doors off and take the roof off. But this was different," said O'Donnell, who added that the team of 22 firefighters does enjoy an opportunity to show off their hard-earned skill.
The department wants to thank the public for their attendance and generosity, and they hope to see everyone again in five years for their next anniversary celebration.