Community Foundation springs into rural grants
Posted on June 22, 2023 by Ryan Dahlman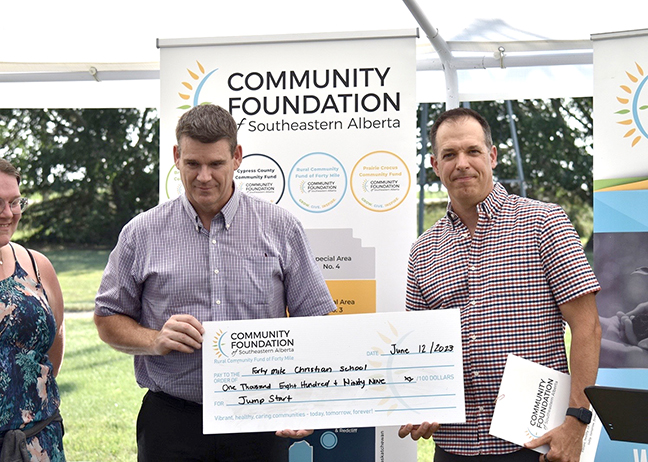 Commentator/Courier Photo by Anna Smith Pillars of Community: 40 Mile Christian Schools representative stands with their oversized cheque for their CFSEA grant.
By Anna Smith
Commentator/Courier
The Community Foundation of Southeast Alberta was excited to roll out some of their spring grants on June 12.
Hosted at Etzikom Museum, CFSEA was happy to showcase this rural Alberta gem for an evening of food, companionship, and philanthropy.
"The Community Foundation, we've been here for 31 years, since 1992. We have been serving the needs across all of southeastern Alberta, up until 2019, when we established the Rural Community Fund to 40 Mile and to others," said Executive Director Niki Gray. "It took us a while to get out here after being here for so long, but we're really proud to have a presence within 40 Mile and to be able to support local grassroots initiatives."
Since their inception, CFSEA has distributed over $9.6 million across the region.
Grants for the evening included their Youth in Philanthropy program, which awarded funding to youth in the region, that is, in turn, given to non-profit organizations throughout their communities as selected by teams of students in local schools. St. Michael's School, Senator Gershaw School, and Cherry Coulee Christian Academy all received grants.
"The best part about the program is that the schools decide how the program will run, how many members that will have and who will be involved. The benefits in participating in our program are long lasting, students will gain analytical skills, appreciation of philanthropy, community leadership and teamwork skills to support their future endeavours," said Jamie Nelson, Community Engagement Coordinator.
Grants to non-youth organizations included $3,315 to the Bow Island and District Tourism and Historical Society (which many locals may know better as the blues club) the Foremost and District Agricultural Society for $4,000, and the 40 Mile Christian Schools for the full cost of a $1,899 AED machine.