Senator Gershaw Valedictorian ready for next stage in life
Posted on June 22, 2023 by Ryan Dahlman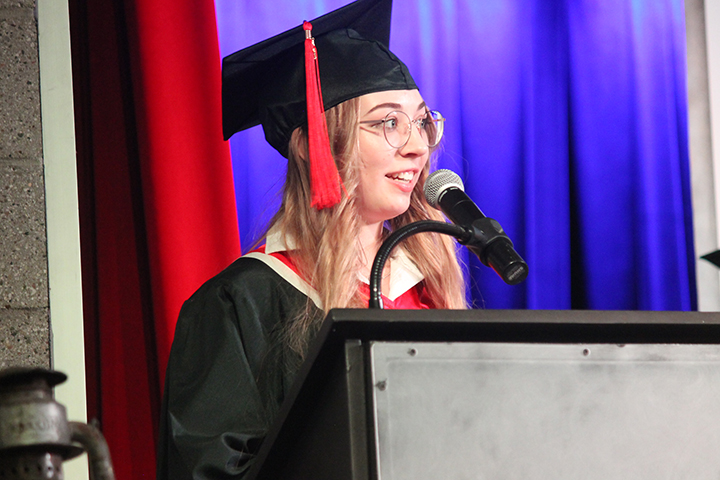 Commentator/Courier Photo submitted FUTURE AHEAD: Senator Gershaw Valedictorian Rylie Schiebelbein.
By Anna Smith
Commentator/Courier
Valedictorian Rylie Schiebelbein has plans already to move to the big city after graduating, but no matter where she goes, she'll never forget what it meant to grow up in Bow Island.
Schiebelbein was Bow Island born and raised, having spent a majority of her school years at Senator Gershaw School itself, and some of that under the watchful eye of her own father, who is currently the school's shop teacher.
"I was, I think, getting sort of an inside view of schools as well, not just from a student perspective, but also sort of from the teacher's perspective," said Schiebelbein. "I'd be here after school when it's just teachers sometimes. And I think that also helped me with schooling, because I understand the teachers more."
When not with her favourite teacher after school hours, though she notes that has an obvious bias, Schiebelbein enjoys reading, making music, and writing, the latter of which she's hoping to make into a career when she's done with her time at the University of Alberta.
"I've always wanted to act; film, more than theatre, but, what I really want is to write books," said Schiebelbein. "I like creating things. I don't know. I just feel like there's something special about it."
Ever since she was a young girl, Schiebelbein has been a voracious reader of all kinds of fiction, and she hopes to give back to a field that helped her so much in her life. 
She expects that the transition from a small school to the university classroom may be a little difficult, but overall is ready for the challenges ahead, including city living.
"Overall, I mean, it's still school. There's gonna be a jump from high school to university, but it's gotta teach you some of it," said Schiebelbein.
"My speech was mainly about taking the lessons that we've learned, and using them to progress forward," said Schiebelbein. "So always try and think things through, and do the best that you can. But my main thing was, I mean, take some time for yourself as well. And make sure that you enjoy the time you spend with everyone around you. Because if you focus too much on things like schooling or work, you can kind of lose those relationships, and most of the time, it's not worth it."
Schiebelbein and her graduating class have largely known each other since they were in kindergarten, and she's already missing them despite not being entirely through with her final year. 
However, it is her hope that she will stay in touch with the rest of her class, and perhaps in ten years' time, she'll come back to the halls of the SGS Gators, ready to revisit memory lane with those who she spent so much of her life beside.
"It was entertaining being with them, but it's always just like chaos. The good type of chaos. I think I really enjoy the chaos," said Schiebelbein. "We've had our own things, but we haven't had to live separate from each other. So I think staying in contact, but still having those completely separate new experiences is exciting."