Crooymans Family Seed Farms take on new name, same service
Posted on July 13, 2023 by Ryan Dahlman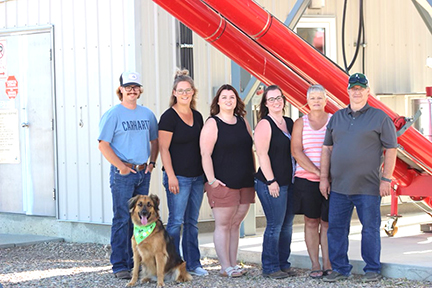 Commentator/Courier Photo submitted by John Crooymans A new generation: Picture of the Crooymans family.
By Anna Smith
Commentator/Courier
As the company prepares to add another generation, the time's come to return to an old name and set down new roots.
The company started with Tony Crooymans, back when he first arrived in Canada in 1956, said owner John Crooymans. 
While the company has been Tony Crooymans & Sons as long as many can remember, with the inclusion of another generation, the dissolving of the current joint venture means that the company is in need of a new name,
"In 2023, now, my son wants to farm with me," said Crooymans. "He wants to farm and really the only way to really make that work for him was to go on our own. So now we're no longer a joint venture. And because we weren't a joint venture anymore, I have to change my name."
The new name is, however, actually an older name, as Crooymans discovered while going through his father's effects after his passing.
"We were going through the things in the house, and he had some hats, and he had some pens, and this advertisement that was all under the name of Crooymans Family Seed Farms. And so on, we were that until, until 2003," said Crooymans.
Crooymans assured that the only thing truly changing was the name, which will be 'Crooymans Family Seed Farms' moving forward, and that clients can expect no major disruptions to service for those who rely on the seed farm, or those who purchase product from them.
"We're going to start a new generation and that requires changing in trade name," said Crooymans. "My dad started this business; he built up the relationship with customers and with industry. Going forward We just hope to maintain that same customer service and seed quality, and carry on his legacy."