Schular celebrates 100 years
Posted on July 13, 2023 by Ryan Dahlman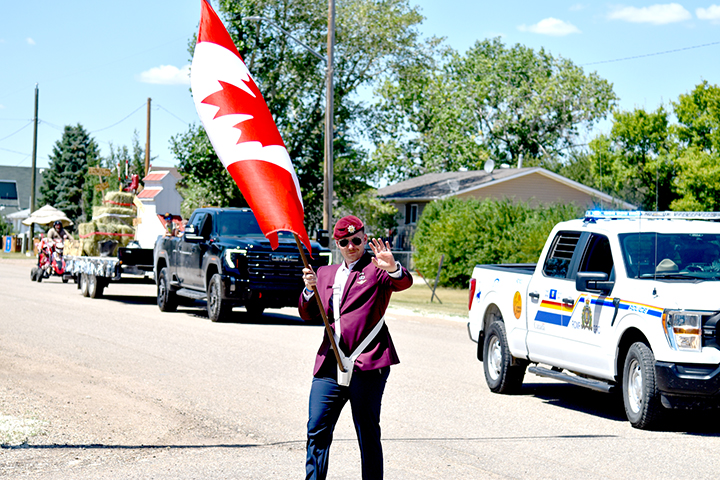 Commentator/Courier Photos by Anna Smith Community on Parade: Pictures from the Schuler Centennial Day Parade and Celebration. Despite the heat, 615 people gathers into the small hamlet for a weekend of camping, catching up, and enjoying everything that Schular has to offer.
By Anna Smith
Commentator/Courier
Canada Day wasn't the only thing worth celebrating this July 1st, with the weekend also being the date of choice for the anniversary of the hamlet of Schuler.
The event was a long time coming, said Committee Chair Brad Herman, with planning initially starting in the fall of 2020, right before the pandemic hit.
"We really weren't sure what was going to take place and you know, so it actually COVID was quite a hindrance because it took quite a while to get things organized. A lot of businesses that you deal with for donations for services, you couldn't pre book any of that stuff," said Herman.
The uncertainty and the long wait made it all the more worth it to see the June 30th–July 2nd weekend finally take place, as visitors from throughout Canada and the states paid mind to the sign warning them to check their fuel for the journey ahead and made their way to Schuler.
"We had about 550 guests registered. And then we had Yeah, we had extras that had shown up," said Herman.
They estimate they had 615 visitors in total, which is a "it was a really good turnout," said Herman.
"We also got lots and lots of positive feedback," said Herman. "There's nothing but you know, really, really good feedback, positive feedback, everyone was very appreciative of what the Organising Committee took on and was able to accomplish and how well run it was. It was nice. Really nice to hear."
The weekend featured a pancake breakfast, various kids activities, and a beer garden with live music, as well as opportunities to tour the ultra-modern Schuler School and the Fire Hall equipment, and look at various pieces of memorabilia from longtime residents of the hamlet,
The St. Joseph's Catholic Church was even open for the occasion, though the building has been closed for use recently. 
"It turned out really nice. I mean, it was a super duper hot day, and it was pretty windy. So the heat in the wind, you can't do anything about it. But other than that, everything went just just perfectly," said Herman. "We had a lot of real good kids events, and there was a really good cross section of, you know, of people, right, from, you know, three months of age to 93."
Above all however, it was an opportunity for those who held the town dear in their hearts to come home, socialize, and trade stories; some people had not been back to Schuler in decades, said Herman, and it was fantastic to see them returned for the celebration.
"One of the big positives was some of the young people that you know, the 20 Somethings that stepped up to help; it's somethingI had a lot of compliments on," said Herman. "You know, a lot of the people really appreciated us but they were really, really stoked to see the young age group step up and help. They said it was pretty, pretty nice to see because you don't see that all the time, different different age groups working together. 
"We're quite happy to see that as well. Quite a few of us had quite a few comments on our, on our kids helping. So that makes a dad proud," said Herman. 
He added that part of the hope is that when the time comes again to celebrate another Schuler milestone, these young men and women will be the ones to step up yet again and organize, and that their children will want to be involved, as well.
"We were just trying to meld the past with the present. And hopefully, incorporate a little bit of the future. And it was a success. A huge success, I think," said Herman.