Foremost Rodeo flying high with new circus act
Posted on July 20, 2023 by Ryan Dahlman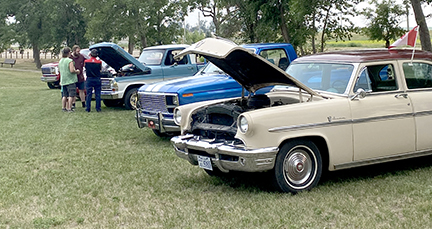 Commentator/Courier Photo by Anna Smith Keeping it classic: Pictures of Bow Island residents' restored antique rides on display at Centennial Park as part of the Market in the Park Classic Car Rally on July 12.
By Anna Smith
Commentator/Courier
The 76th annual Foremost Rodeo is just around the corner from July 20–22, and the team is making good on their goal to make each year just a little better than the last.
"This year we're bringing in Flying Bob," said Stacey Barrows. "He's a circus entertainer. He does a one hour circus act. And then he does three hours of interactive activities, where the kids get to participate in trying out some of his stuff, like a unicycle and tight rope walking and that kind of stuff."
Barrows encountered Bob during the trade show section of the Agricultural Society Trade Show, and was thrilled to be able to secure him for this year's rodeo.
"We thought it'd be fun entertainment, because we have the parade at 1:00 and then the rodeo isn't until 7:00, it gives us something to do in between," said Barrows. 
This year brings back previous year's live music and beer gardens, alongside food trucks, children's activities and a pancake breakfast Saturday morning, all for a $15 dollar admission fee.
"12 and under are free, of course. So that's a bonus, to bring your kids," said Barrows. "We like to cater to the kids, to keep them busy, and having fun."
The 76th year came together smoothly, said Barrows, thanks to the hard work of the long standing committee, which has the art of bringing everything together well practised after so long. They're pleased with the number of entries to the rodeo, which is up from previous years again, and starting to soak in the excitement for the coming weekend.
"I think we're getting excited, especially now that this is our third summer having it in July. I know it was a little busier the first few years. In June, you're not quite in to your summer activities or summer holidays yet," said Barrows. "But July, people are starting to take holidays. So you scramble a bit more. But I think now that we're into our third year of doing the July performance weekend, I guess it just gets easier."
The committee is particularly happy with the rough stock numbers, which Barrows noted can be unpredictable some years, but everything seems to have lined up for a wonderful weekend in Foremost for locals and visitors to the village alike.
Barrows encourages anyone curious about the rodeo, or who may have questions, to reach out on the Foremost Rodeo Facebook Page, which she adds will be especially active in the days leading up to the event itself.