County celebration success despite smoke
Posted on July 27, 2023 by Ryan Dahlman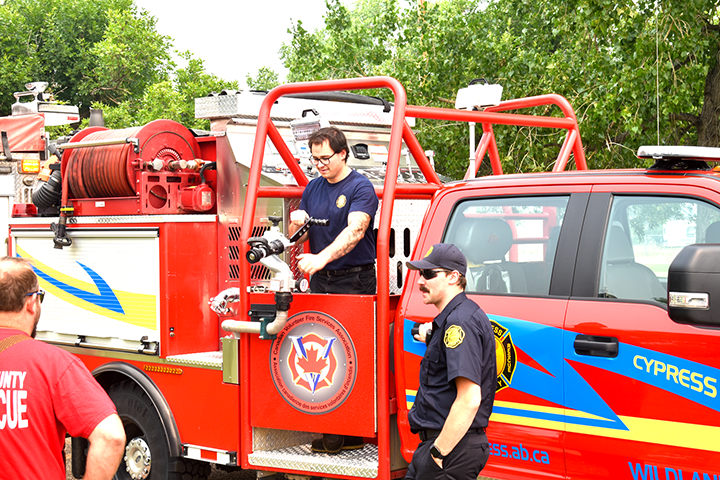 Commentator/Courier Photo by Anna Smith Where there's smoke: Pictures of visitors and Cypress Firefighters examining some of the local equipment on Celebrate Cypress County Day.
By Anna Smith
Commentator/Courier
July 15th's Celebrate Cypress County Day saw visitors flocking to the Visitor Centre in Walsh.
Though the weather was less than ideal due to high temperatures and high levels of smoke moving through the area, the event largely went off without a hitch, said welcome centre attendant Emily Haukeness.
"There's many wonderful moments during the event that contribute to success. (There were) lots of things to do. The weather was okay, a little smokey," said Haukeness. 
Haukeness estimates that they had approximately 90 visitors in the 11am–2pm period that the event lasted, a good turnout considering the myriad of events that a summer weekend tends to offer.
"We had face painting this year, which was really fun. A lot of the kids enjoyed that. Lots of crafts, it just was great having the community together. We have lots of volunteer firefighters out here showing during demonstrations spraying the hose – good time. And some of it we have to our authors in our local boutique. And they both were here signing books, which is also really cool," said Haukeness.
"We had some feedback from people but not a ton, just like maybe some shade," said Haukeness. "Ideally, less smoky. But nothing we can really do about that. Other than that, I think everyone had a really good time."
This year, the centre had two new employees, who really enjoyed their first Celebrate Cypress County Day, and all four employees are looking forward to putting everything on again next year.
The centre would like to thank everyone who came out for an afternoon of yard games, fire demonstrations, and other family fun.