Pivot Country Fair grateful for community support
Posted on August 3, 2023 by Ryan Dahlman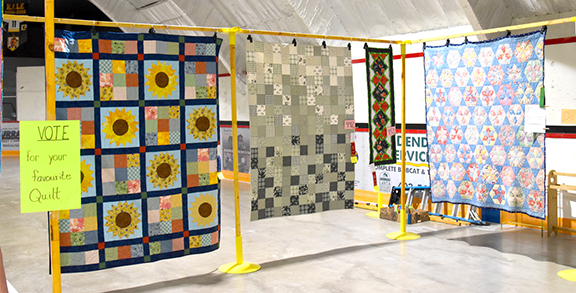 Commentator/Courier Photo by Anna Smith Best in Show: Pictures of the various entries for the Pivot Country Fair, on display at Servus Community Arena.
By Anna Smith
Commentator/Courier
The Pivot Country Fair is over for another year, and with 444 entries, this year was a marked success.
Participation this year was significantly higher, nearly returning to pre-pandemic numbers for the Bow Island event. Last year saw 32 exhibitors with 202 entries.
"The fair committee would like to thank all those who exhibited," said committee member Dorothy Kroeker. "It is the exhibitors who make the fair a success and we certainly have a lot of creative people who are willing to put their work out for the public to see."
The fair is a judged show, with entries viewed by competent judges and awarded a placing of 1st, 2nd or 3rd, as well as comments about the quality of the item and often suggestions for improvement in workmanship and to meet judging criteria.  
"Each ribbon placing comes with a cash prize," said Kroeker. "We distributed $2946.50 this year in awards!"
The fair also features aggregate awards that are given to exhibitors with the highest points in specific sections and classes. The aggregate awards are generously sponsored by 23 local businesses and organizations. The committee is very grateful for their support and encourages all exhibitors to thank the sponsor they received their award from.
"We hope that community people come out to see all the wonderful items even if they are not exhibiting themselves. Each year there are three hours of viewing time available on Wednesday night and six hours on Thursday afternoon," said Kroeker.
This year also featured a presentation from Roxanne Doerksen from T.R.A.D Worms.
"No community event happens without many helping hands. The fair committee has 16 members who put in well over 300 hours of volunteer work. Thank you to those dedicated persons," said Kroeker.
They also have eight judges who put in 15 hours and a set-up and take-down crew, which was St. Michael's School students this year, who put in a combined total of 33 hours. Besides that, community people just step up and help out when they see their support is needed, for which the committee is deeply grateful.
Despite a few glitches, such as a tabulation error in the family award and the removal of the tables happening while entries were still being collected, overall, the fair was a success.
"We thank and congratulate everyone involved and hope you each enjoyed yourself," said Kroeker.