Foremost Rodeo results are in, cowboy spirit rides on
Posted on August 10, 2023 by Ryan Dahlman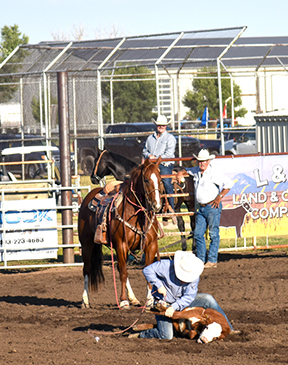 Commentator/Courier Photo by Anna Smith Western Spirit: Pictures from the Saturday Parade, circus show, and rodeo events on August 22 in Foremost.
By Anna Smith
Commentator/Courier
For its third year in July instead of June, the Foremost Rodeo is thrilled to have their numbers and officially call this year a success.
The grounds saw just over 600 paid admissions to the rodeo on the Saturday night, said organizer Stacey Barrows, well up and in line with previous years.
"It was quite a crowd and 12 and under is free. So we can't really count kids, but I'm guessing Saturday had at least 200 kids. Walking through all the kids' events, of course, and our last event of the night, and the arena was full of kids," said Barrows. While she estimated they lost some of the younger children as the evening wore on, on both the 21st and 22nd evenings, the days were packed full of kids and adults alike excited for the community event.
The rodeo is a community event in the truest sense of the word, said Barrows, put on for the sake of bringing Foremost together and for attracting participants and travellers alike to the hidden gem of the County of Forty Mile No. 8.
Barrows commented that she was glad they had made the decision to move to a night rodeo, as with nearly 40C degree weather on the Saturday during the 1 p.m. parade, it was a welcome relief for the arena lights to be needed after sunset.
"This is year three of having it in July. And it just seems to keep getting better and mo re exciting. And honestly, the weather's nicer. June can be cold. And rainy. It certainly wasn't either of those things that weekend," said Barrows.
One thing the committee was particularly thrilled about was the number of saddle bronc riders who had made their way to Foremost for the rodeo, as rough stock events can be somewhat unpredictable for participation over the years.
"We were lower on bull riding numbers. But there were so many other bull riding events that weekend, that I think that kind of stretched everyone thin," said Barrows. "So we were quite ecstatic to see that many bronc riders. In fact, I think in all of our events, our numbers were slightly up, some might have stayed the same, like some of the timed events, but in most of the events the numbers were up as far as number of contestants."
Every year, they try to do something slightly different, to keep the rodeo fresh for those who have been attending nearly as long as the rodeo has been put on, and this year's attraction, one-man circus Flying Bob, was very well received by the community, said Barrows, and they were happy to see the Shriners participating in the parade this year.
"Some of the comments I heard over that weekend from locals, you know, were that they like all the extra events we do; the ones that just anybody can participate in, you don't have to be a rodeo contestant, because we did the 'Monkey on a Rope'. And everybody got into that," said Barrows. "Because you know what, as long as you have somebody that can ride a horse, anybody can participate. It's a two man team. And so a lot of the community could participate in it, and so they really got behind that."
The committee is grateful to everyone who made their way out, either as a loyal rodeo fans or a newcomer to Foremost there for the community events, and looks forward to next summer.