Coulee Collegiate's dual certification expanding opportunities
Posted on August 17, 2023 by Ryan Dahlman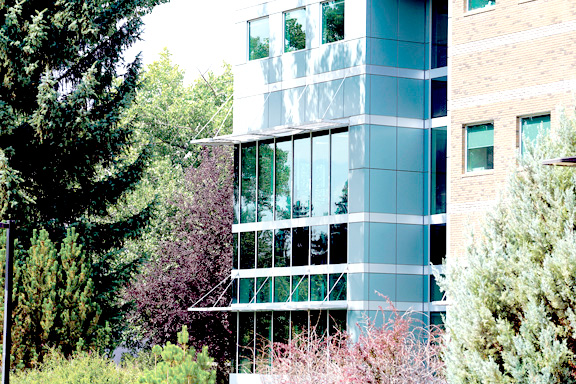 Commentator/Courier Photo by Samantha Johnson Higher Learning: Coulee Collegiate is located on the top floor of this building at Medicine Hat College
By Samantha Johnson
Commentator/Courier
Local Journalism Initiative Reporter
Coulee Collegiate runs a free dual certification program each year, allowing high school aged students to earn credits while also receiving outside certification.
Courses being offered for the upcoming academic year are standard first-aid, level 1 and 2 confined spaces, fall protection, forklift training and skid steer training.
Principal of Coulee Collegiate Tim Bloomfield said, "We team teach or co-teach the course with an outside agency and we are the ones that provide the assessment for the high school credit and the outside agency, who mostly run the course, are the ones that provide the certification."
First-aid is run with St. John's Ambulance, which comes into the school to teach the course. The course is two full days, from 8:30 a.m. until 4:30 p.m. each day. Students are assessed on their hands on work and a written test. If they pass, they will be certified by St. John's and then receive high school credits at the same time. Students receive two high school credits for first aid and one credit for each of the other courses offered.
The other four courses are run out at F&S Safety Buzz in Dunmore near Eagle Butte High School.
"They take the full day training out there. We send teachers out there also to check up on the course and make sure things are going well," said Bloomfield. "They are the exact same courses they would do with an adult, but our sessions are only for high school-aged students.
"Theory in the morning, then they take a lunch break and in the afternoons they are on the equipment."
This includes driving a forklift or skid steer in both courses, including the walk-arounds and checks and F&S will certify a student if they are driving up to proper ability.
While students don't need a driver's licence to take the forklift and skid steer training, it does help.
"We've ran into that situation before and I think the answer was no, they don't need a driver's licence but it sure does help to have one," stated Bloomfield.
Other courses have been offered in the past, but it depends on demand.
"We used to run the food safety course and we aren't offering it through Alberta Health Services this year. We did the past few years and we'll probably bring it back again in the future, we just didn't have enough interest in it last year," said Bloomfield.
Some parents call up Coulee Collegiate and ask to have their child registered in all the courses as each widens an individual's employment opportunities.
The dates are chosen based on professional development (PD) days within Prairie Rose Public Schools and the Medicine Hat Public School Division. This allows students attending high school to take the courses without having to miss any classes.
"You could have already graduated and that is mostly who we are trying to target. Someone who has just graduated from Eagle Butte, Hat High, Crescent Heights or McCoy, and they are still 18 or 19 years old, they can come in and take these courses and get certified for free. (They can) transition into the workforce if they are doing a gap year or something like that," said Bloomfield.
Of particular note, the first-aid course through Coulee Collegiate is a prerequisite for all the other courses offered.
"It has to be done with us. If they go do first aid on their own, it doesn't count," said Bloomfield. "That's why we run our first aid ahead of time. We'll run those sessions early in the year and that qualifies them for all the other institute certificates later in the year."
These courses are all free for high school-aged students. All fees to F&S Safety Buzz and St. John's are paid by Coulee Collegiate.
"We cover all the costs for them to get their licensing or their tickets. They just pay a refundable deposit ($100) to hold their spot," concluded Bloomfield.
Workplace Institute Certificate courses begin at the end of August. For more information or to register email couleecollegiatesecretary@prrd8.ca or call the school at 403-526-4156.